Ronaldinho, Barca boost China's grand ambitions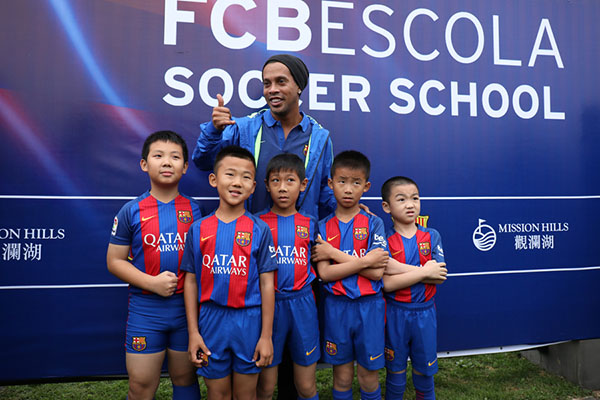 Ronaldinho with young Chinese soccer talent in Hainan province last week. [Photo/Agencies]
HAIKOU, Hainan-China's plans to become a soccer superpower received a major boost last week when Brazilian great Ronaldinho launched a Barcelona academy in Hainan province.
The Barca legend and club president Josep Maria Bartomeu met with budding young Chinese talent and toured the site at the island's Mission Hills golf complex, which will have seven pitches when it opens later this year.
The academy, which will double as a training center for China's national team and top clubs, is one of tens of thousands of facilities expected in the coming years as China strives to improve performances on the global stage.
"We know Barcelona FC works very well with kids," said 2002 World Cup winner Ronaldinho, now an ambassador for the Catalan club which he spent five trophy-laden years with as a player until 2008.
"With the high-level professionals that are coming to work here, I believe Chinese soccer is going to learn a lot."
The new facility will be the biggest of Barca's 20-plus academies, and the first directly managed by club staff.
It is still dwarfed by the Evergrande Football School in Qingyuan, Guangdong province, which has links with Barca's Spanish rivals Real Madrid and accommodates over 2,000 students, making it the world's biggest soccer school.
But Mission Hills vice-chairman Tenniel Chu said in November that the Barca academy will eventually grow to 30 pitches, alongside an international school with a capacity of 5,000.
"Probably it will be the biggest soccer project in the world," Bartomeu said.
"China needs what Mission Hills is doing in Hainan, and for China it's going to be a new step for the growth in soccer.
"The temperature, the ambience, the people, and mainly the terrain of this island are going to be something unique for the development of soccer in China."
China, whose national team is ranked 86th in the world, plans to have 50,000 academies and soccer-focused schools by 2025, the education ministry said last week.
Mission Hills already operates the world's two biggest golf resorts in Guangdong and Hainan, along with a Boris Becker tennis academy.
Barca will also open a 7,000-square-meter 'Barcelona Experience' center, featuring exhibits and selling club merchandise.
Agence France-Presse
Most Popular
Highlights
What's Hot