Teenage prodigy Guan shines at Masters with 73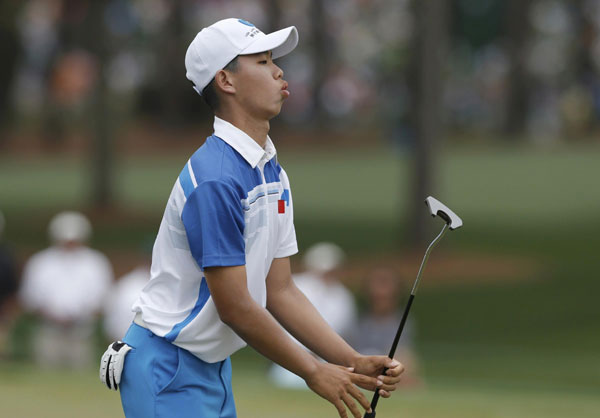 Fourteen-year-old Amateur Guan Tianlang of China reacts to missing a birdie putt on the second green during first round play in the 2013 Masters golf tournament at the Augusta National Golf Club in Augusta, Georgia, April 11, 2013.  [Photo/Agencies]
AUGUSTA, Georgia - Guan Hong Yu said on Thursday she was not anxious about how her 14-year-old son Tianlang would do as the youngest competitor ever at the Masters.
"I'm not nervous," she told reporters at the practice putting green minutes before he teed off for the first round.
"He has played in more than 200 tournaments. He is very experienced."
Mother knows her son very well, as the extraordinarily composed eighth grader toured the treacherous Augusta National course in one-over-par 73 and won the hearts and respect of galleries up and down the spiritual home of U.S. golf.
"I just feel comfortable and relaxed," the cool and calm Guan said after outscoring his playing partners, two-time Masters champion Ben Crenshaw (80) and Italy's Matteo Manassero (75), who three years ago set the old Masters standard as youngest player at age 16.
"I played some good golf and it just feels great."
The smooth-swinging Guan was just one stroke away from the 72 four-time winner Tiger Woods recorded as a 19-year-old in his first round at the Masters, and three shots better than six-times winner Jack Nicklaus recorded at 19 in his first Masters.
A care basket that included two bananas, some energy bars and fruit juice packed by his mother might have helped, along with the encouragement from an entourage of more than a dozen friends and family that followed him every step of the way.
On a breezy, overcast day that threatened rain, Guan exceeded expectations, sparkling with a short game that took the breath away from the seasoned Crenshaw.
"He played about four of the most beautiful delicate pitches you've ever seen," said Crenshaw, who applauded Guan after he pitched into a mound from behind the par-three sixth green to trickle the ball down close and save par.
"He played like a veteran today," the 61-year-old said.
"He played like a journeyman, a 28-year-old journeyman who's been around the block, made a ton of cuts. He played a beautiful round of golf."
Fourteen-year-old amateur Guan Tianlang of China celebrates sinking a birdie putt on the 18th green during first round play in the 2013 Masters golf tournament at the Augusta National Golf Club in Augusta, Georgia, April 11, 2013.  [Photo/Agencies]
EMOTIONAL FINISH
The 14-year-old ended his major championship debut with a birdie putt right on the day's magic number of 14, curling in a 14-footer at the 18th to finish the first round as low scorer by three strokes among the six amateur players in the field.
The Asia-Pacific Amateur champion showed his first emotion of a five-hour tour of Augusta National at the last hole, thrusting his right arm into the air and waving his cap to the cheering crowd after bending in a left-to-right curler for his closing birdie.
"It was like a dream come true," Guan admitted. "Playing in the Masters is pretty amazing."
The slightly-built teenager made up for a lack of length off the tee, where he routinely drives the ball about 260 yards, with his deft short game, drawing roars of appreciation with his rescue work at the sixth, 11th, 13th and 17th holes.
While Guan played his round with a dead-pan expression, his father, Han Wen, was the head cheerleader.
The elder Guan, a physician who began showing Tianlang the rudiments of the game when he was four, exhorted "Bite, bite, bite," on his son's long approach shots and "Go, go, go," when his shots landed short on the green.
He shot a fist-pump to a friend after his son's six-foot birdie putt hit the bottom of the hole at the 10th after a 190-yard, high, soft hybrid shot into the green.
When Guan rolled in a 15-foot birdie putt at the par-five 13th after his tee shot lost distance after it deflected off a pine tree branch, the player's father threw his arms over his head, cheered and slapped a high-five with a friend from home.
John Ho, vice president of the Lion Lake Group, which includes the Lion Lake Country Club where Guan practises in Guongdong, said he was proud of the precocious Guan.
"He comes to play every day after school," he told Reuters. "His father drives him about an hour to the course and he practises until dark for about two hours. He practices all day on the weekends."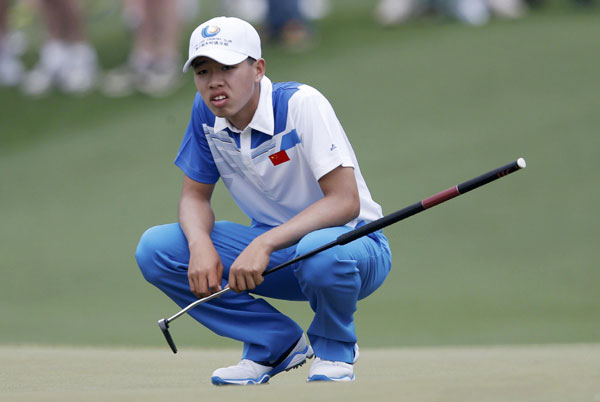 Fourteen-year-old Guan Tianlang of China (R) hits his approach shot to the first green next to caddie Brian Tam (L) during first round play in the 2013 Masters golf tournament at the Augusta National Golf Club in Augusta, Georgia, April 11, 2013.  [Photo/Agencies]
IN AWE
Others watching the impressive 14-year-old were awed by his maturity on the golf course.
Jarut Padung, 24, a PGA teaching professional at the TPC Sawgrass course in Florida, was impressed.
"It's pretty cool that he can handle it," Padung said about the pressure. "He looks so calm. It's cool to see how calm he is. I think it's incredible and I wonder how many will try to walk in his track."
Twelve-year-old David Mustard watched Guan from along the fairway at the par-four third hole, where the Chinese dropped in a 15-foot putt for birdie.
"I came down here to watch him," said Mustard, who comes from Athens, Georgia. "I can't believe he can be that good."
Guan did not let adversity get him down.
At the par-four 11th hole, he pulled his approach shot into the pond guarding the green on the left. From the drop area, he knocked a wedge shot to within three feet and converted for a brilliant bogey-save.
Crenshaw, who played a practice round with Guan on Monday, recognises the gifts that make Guan special.
"He stays well within himself, he's very confident, and obviously has beautiful hands," said Crenshaw. "His thought process never got rushed, he's very patient. Very, very, very impressive."
Guan is soft spoken and articulate, tending toward understatement though he is confident and by no means bashful.
Asked if he thought he could win the tournament, Guan, who stands seven shots off the pace, said: "I think probably not this year, but I think I can win it in the future."
When asked about his ambitions, the boy who was first inspired by watching Tiger Woods win majors on TV, envisioned outdoing his idol.
"I want to win a major and hopefully I can win the four majors in one year," he said, drawing laughs from the press corps.
Most Popular
Highlights
What's Hot