Guan chatter rivals Tiger talk at Augusta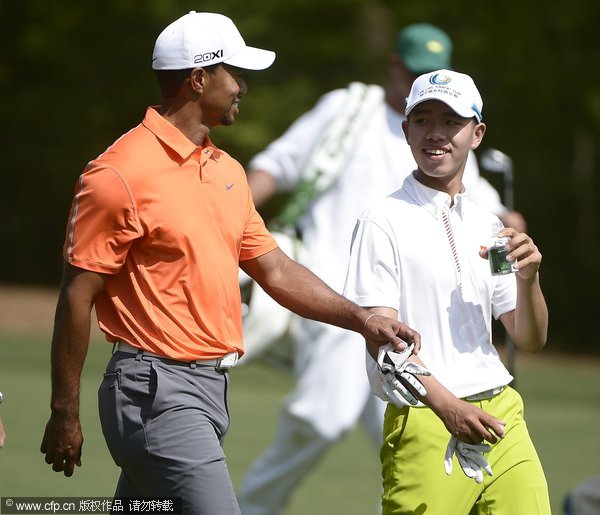 Tiger Woods of the US (L) and Guan Tianlang of China talk as they walk down the fairway on the eleventh hole during the first practice round of the 2013 Masters Tournament at the Augusta National Golf Club in Augusta, Georgia, USA, 08 April 2013. The Masters tournament will be held 11 April through 14 April 2013.  [Photo/icpress]
AUGUSTA, Georgia - While Tiger Woods commands the spotlight going into this week's Masters after making a sizzling start to the season, 14-year-old Chinese Guan Tianlang has also got tongues wagging at Augusta National.
The Chinese prodigy will become the youngest player to compete at the Masters when he tees off in Thursday's opening round and he has already stunned the game's top practitioners with his remarkable talent and poise during practice rounds.
"For a 14-year-old to be able to come out here and handle himself the way he's done is just unbelievable," four-times Masters champion Woods told reporters on Tuesday before heading out to play a few holes in the company of 1992 winner Fred Couples.
"As I was saying to some of the guys yesterday, this kid can't even play high school golf. He's not in high school yet, so it's hard to believe.
"When I was 14, I was trying to play more tournaments and I was running track and cross country, trying to get homework done. I couldn't imagine not just playing in a Tour event, but the Masters."
Woods, a hot favourite for the year's opening major after winning three times in his first five starts on the 2013 PGA Tour, played nine holes with Guan on Monday and was hugely impressed.
"He's so consistent," said the American world number one. "He was hitting a lot of hybrids into the holes yesterday, hitting them spot on, right on the numbers.
"He knew what he was doing, he knew the spots he had to land the ball and to be able to pull it off. Good scouting, good prep, but also even better execution."
LATEST SENSATION
Guan, who has swiftly established himself as Asia's latest golf sensation, booked his place at the Masters with a one-shot victory at the Asia-Pacific Amateur Championship in Thailand last November.
He was the youngest player in that field and on Thursday he will lower by more than two years the Masters' age record set three years ago by Italy's Matteo Manassero.
"At 14, Guan is an incredible player," said American left-hander Phil Mickelson, a three-times winner at Augusta National. "You can't believe how good he putts it.
"And this can be a great golf course for him. I think he's going to make a lot of putts out here, because he's got great touch and great vision.
"I could never imagine at 14 playing the Masters. I couldn't even imagine playing in a PGA Tour event, let alone the best event in the game. To have that opportunity as a 14-year-old is pretty cool."
Guan was also hugely impressive in his pre-Masters news conference on Monday when he answered every question asked of him in English in a self-assured manner.
"He speaks great English, he's picked it up really well," said Woods, referring to their on-course conversations.
"He asked me a lot of game questions, whether it's what am I doing in my game or a strategy on the golf course, practice, playing. A lot of golf stuff.
"And I was asking him about school and stuff like that. What classes are you taking? It was cool to see, just the attitude and the open mindedness. He's just taking it all in."
Most Popular
Highlights
What's Hot