Making use of Guangdong-Hong Kong-Macao Greater Bay Area to become a hub
With its modern industrial system, Tianhe district in Guangzhou, South China's Guangdong province, is seizing the opportunities brought about by the construction of the Guangdong-Hong Kong-Macao Greater Bay Area to become an international first-class central business district, an international core area for innovation in science and technology, and a demonstration zone for Guangdong-Hong Kong-Macao cooperation.
Its solid industrial foundation and favorable business environment, as well as the government's strong policy support, attract large numbers of enterprises to the district.
By the end of November, 162 out of the Fortune Global 500 enterprises had invested in 228 projects in finance, science and technology, trade and commercial services in Tianhe. It is the city's center for headquarters, with 104, or 29 percent of the total across Guangzhou, making Tianhe's business district one of the three largest world-class central business districts in China. Among these, 95 percent of the headquarters in Tianhe are in the service sector and 25 headquarters are foreign-funded ventures.
In the first three quarters of 2017, Tianhe's GDP hit 304 billion yuan ($46 billion), up 9.5 percent year-on-year. Its GDP has been the highest among all the districts in Guangzhou for 10 years consecutively.
More importantly, experts said innovation, high-tech and service sectors have become the driving force of the district's economic growth. The district government focuses more on quality rather than quantity when it comes to the economy.
With 53 innovation platforms and 51 startup incubators above city level, the district government is carrying out what it calls its "super incubator" strategy. It is making use of old industrial parks, factory workshops and public sites collectively owned by villagers to provide a platform for startups and to foster local economic growth. So far, Tianhe has created 29 of this kind of incubators for startups and innovation, covering a total area of 1.11 million square meters. The district is also implementing a convenient "five-in-one" new business registration system.
As a center of finance and technology industries, Tianhe has 215 registered financial agencies and 33 enterprises listed on the stock market. It boasts 378 research and development institutes set up by enterprises, 86 institutes affiliated to universities and governments, and 239 engineering technology research centers.
Last year, 4,312 patent applications were submitted in Tianhe, 32 percent of the city's total and a rise of 45 percent year-on-year. Among these 1,158 patents were granted.
By the end of last year, Tianhe had 1,403 high and new-technology enterprises, as well as more than 50,000 science and technology enterprises.
The Tianhe government said it attaches great importance to optimizing the district's investment environment, developing its headquarters economy and upgrading key industries such as finance and technology. The government has enhanced its support for businesses in emerging industries, such as cloud computing, big data, the internet of things and the IAB industries - information technology, artificial intelligence and biopharmaceuticals.
Lin Daoping, Party chief of Tianhe, said: "As for the artificial intelligence industry, Tianhe would like to attract more R&D, sales and support centers. In manufacturing and biopharmaceuticals, Tianhe eyes more opportunities in advanced medical apparatus and instruments, health services, and stem cell and regenerative medicine among others.
"Finance is the blood for the IAB industries' development."
He said that's why Tianhe pays special attention to developing its financial industry. The district has formed three kinds of science and technology financing platform systems: venture capital investment, loans and multilevel capital market.
Quality education and medical care, a habitable environment, developed urban infrastructure and efficient public services in Tianhe are also important factors that attract professionals from around the world.
The new technology revolution is speeding up, presenting both opportunities and challenges, said the local official.
A combination of information and intelligence technologies can help to upgrade these industries, so as to improve the quality and efficiency of the supply side.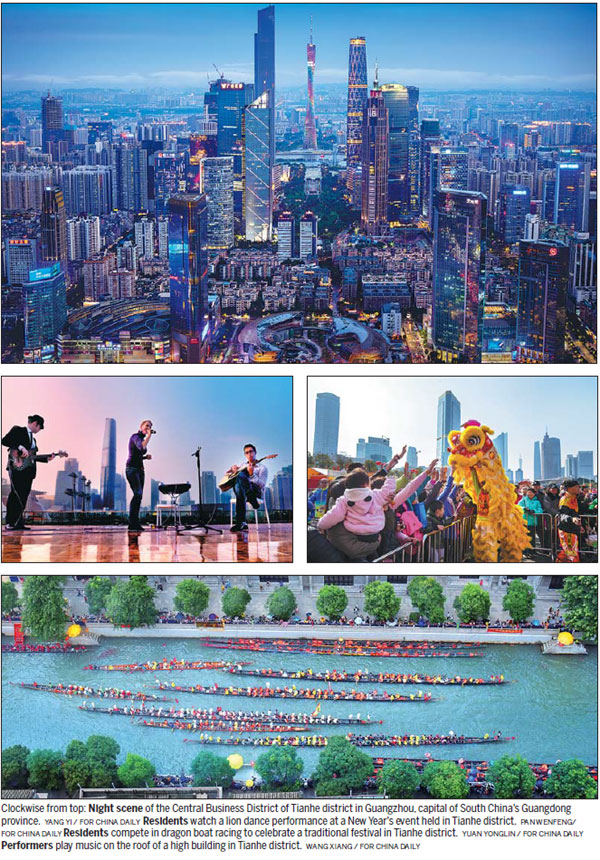 (China Daily 12/07/2017 page12)