A winter's tale of loss and learning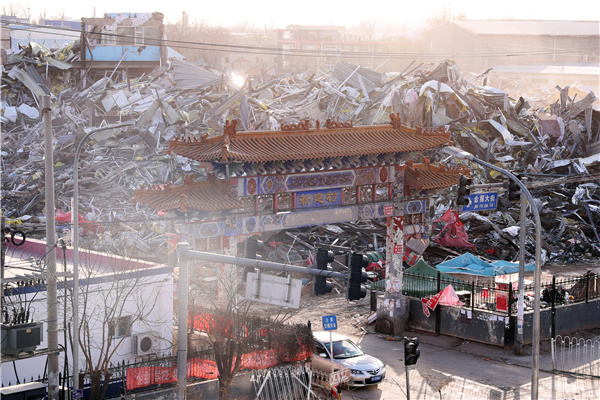 Work crews have demolished many unsafe buildings in Beijing's Daxing district as part of a safety campaign launched after a fire in Xinjian'er that killed 19 people on Nov 18. [Zou Hong/China Daily]
Yuan Wuneng and his wife have slept in a truck since their home was destroyed in the deadly blaze at Beijing's Jufuyuan apartment complex on Nov 18.
The couple moved to the capital 12 years ago in search of a better life. "Now, all our belongings are gone," Yuan said late on Tuesday, as he sought shelter from the harsh winter wind.
"It's getting colder. Soon it will be almost impossible to sleep in the truck," he said. "We need to find an apartment fast."
Nineteen people died, including eight children, when flames ripped through the three-story residential block, which was home to more than 400 tenants, in Beijing's southern Daxing district.
The tragedy ignited public anger not only as it exposed serious safety hazards, but also because of the subsequent 40-day cleanup campaign that saw many tenants in unsafe properties evicted with little warning or support.
"There are too many lessons to be learned from this fire," said Yang Xiaojun, a professor of administrative law at the Chinese Academy of Governance in Beijing. "For those living in such environments, it's a safety warning. For the government, it's a growing pain and a lesson in social governance."
Fire began spreading through Jufuyuan around 6:15 pm. Investigations show it was started by an electrical fault in a newly installed refrigeration unit in the basement, and that flammable materials in ceiling and wall partitions gave off poisonous gases as they burned.
The crowded building was a death trap, according to Wei Yiyu, director of fire supervision in Daxing. "Its ceilings were made of polystyrene. Also, gas and smoke would have spread to every room quickly because the partitions didn't reach the ceiling. That dramatically reduced the time people had to escape," he said.
Yuan, 36, moved into the Jufuyuan apartment block about two years ago. The cheap rent was his only consideration. "To be honest, safety issues never crossed my mind," he said, adding that he was also attracted by the building's name, which translates as "gathering lucky fate".
He and his wife rented a room of about 20 square meters for 700 yuan ($105) a month, which was already a luxury, as the area-known as Xinjian'er-has many similar apartments at even cheaper prices.
Like many residents, Yuan, who is from Xingtai in Hebei province, made a living running a small textile business. The streets are dotted with such workshops, some of which double as dormitories for employees.
Jufuyuan was in a "three-in-one" industrial compound, so-called because it provided space for accommodations, workshops and warehouses. These compounds were introduced in Beijing in the 1980s to boost rural economies.
Village committees were encouraged to attract enterprises to these compounds by offering factory space and warehouses, particularly in Daxing, Tongzhou and Changping districts, which at the time were rural suburbs.
As the city developed, these pockets of industry grew into communities packed with small workshops, as well as restaurants and grocery stores to cater to the residents, mostly migrant workers and small-business owners.

Editor's picks