Tianhe district of Guangzhou, Guangdong province is striving to establish a technology innovation hub by focusing on the IAB industries: information technology, artificial intelligence and biomedicine.
"Tianhe is home to a national-level central business district, high-tech zone and software park, and is the first district to implement the Internet Plus strategy in Guangdong. The district provides a sound living environment for internet-related enterprises," said Huang Hao, rotating president of UC.
UC, a mobile internet company, was founded in Tianhe in 2004.
At its founding, the government of Tianhe provided the company with 100,000 yuan ($15,120) and helped it to settle into its offices.
"UC has benefited from the government's considerate services, the favorable business environment and the orderly urban life of the district in its long-term development," Huang said.
He added that, thanks to the sound business environment, the well-established internet industry supply chain and improved intellectual property protection, Tianhe plays a key role in the sustainable development of internet enterprises.
In accordance with the district's goal, UC will focus more on content, digitalization and globalization to become an international top technological innovation enterprise, according to the company.
Wang Meng, executive of the Guangdong Investment Promotion Association, said: "Tianhe is a window for Guangdong province. It demonstrates South China's high economic growth and innovation levels."
In recent years, Fortune 500 and domestic companies have swarmed into Tianhe, injecting momentum into the district's advanced modern services and technology innovation industries.
"The advanced modern service industry is crucial to developing advanced manufacturing and promoting the exchange of capital, technology, professionals and management," Wang said.
She said advanced service providers, such as consultants, lawyers and accountants, can offer specialized knowledge to help enterprises bring forth more innovation.
In 2015, the Tianhe government published a three-year action plan to support industrial development and technological innovation.
This year, the government has revised the plan to mainly focus on the IAB industries, by increasing the annual finance available for technology companies from 1 billion yuan to 2 billion yuan.
liangkaiyan@chinadaily.com.cn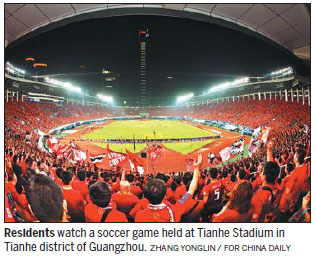 (China Daily 12/07/2017 page12)