With its efficient layout, vibrant business climate and quality services, the Central Business District of Tianhe district in Guangzhou, capital of Guangdong province, is developing into a cluster for advanced industries and a business center of southern China.
"It was not a tough decision for us to come to the CBD," said Andy Tan, general manager of Zurich General Insurance Co (China) Ltd Guangdong Branch.
"Since all the world-class financial institutions are here, the financial information is prompt and there is a rich pool of professional staff."
Zurich Insurance Group, a leading Fortune Global 500 insurer, was founded in 1872 and is headquartered in Zurich, Switzerland. With about 54,000 employees, it provides insurance services in over 210 countries and regions.
After setting up subsidiaries in Beijing and Shanghai, Zurich chose Guangzhou as the location for its third branch in China in 2016.
"The local government offers almost the best services that I ever had," he said. "The approval process, for example, is very simple."
In 2016, the GDP of the Guangzhou Tianhe Central Business District hit 270 billion yuan ($40.82 billion), up 9 percent year-on-year, statistics from Tianhe district showed.
A total of 140 Fortune Global 500 companies have established 184 offices in the CBD of Tianhe, according to the local government.
JPMorgan Chase & Co, Allianz, Zurich Insurance, Bank of America and many other institutions are there - offering advanced and professional financial services that account for 70 percent of Guangzhou's total financial institutions.
"It's Zurich's very first year in Guangdong," he said.
"Thanks to the important role Guangzhou plays in the Belt and Road Initiative, Zurich has cooperated with many involved countries, such as Russia, Thailand, the Philippines, Iraq, Turkey and Poland. It is a favorable beginning."
He added Zurich has strong interest in the IAB program put forward by the local government, covering information technology, artificial intelligence and biological medicine.
"Information technology has high risk and cyber security is what the nation pays close attention to," he said.
"Zurich is experienced in cyber attack insurance. We are convinced that there will be plenty of opportunities for business with the information technology industry."
zhangdandan@chinadaily.com.cn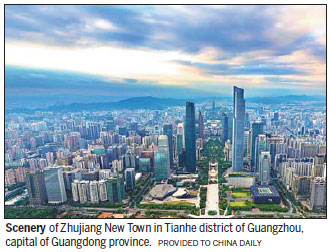 (China Daily 12/07/2017 page12)