The Pearl River Delta boomtown of Dongguan will be hosting the 2015 Guangdong 21st Century Maritime Silk Road (MSR) International Expo in late October.
Set from Oct 29 to 31, the forthcoming event will witness business people from more than 30 countries and regions, especially those along the MSR as well as 20-odd national pavilions participating in the expo.
"Business people along the MSR have shown an unprecedented interest in the expo. Many have applied for more exhibition booths than what is available," said Chen Zhongqiu, executive secretary-general of the expo's secretariat.
According to the official, this year's expo will comprise one thematic exhibition and six trade shows.
The thematic exhibition will showcase co-op achievements, business opportunities, cross-border e-commerce and IT products. While the other six trade shows will respectively highlight tourism and culture, building and decoration materials, as well as engineering machinery, MSR local foods, agricultural products, selected tea, porcelain and silk products.
"The upcoming MSR expo will not only be a trade fair but also a gala meet for investment networking and cultural exchanges for the MSR people," Chen pointed out. He added that during the expo over 20 overseas projects for domestic investors and a large batch of projects targeting the Chinese market in addition to MSR folk performances will be unveiled.
The first session of the MSR international expo, held in late October and early November 2014 attracted 1,015 enterprises from 43 countries and regions. The official statistics indicate that total 451 co-operative projects' contracts were signed involving a combined capital input of 174.7 billion yuan ($27.36 billion), at the first session.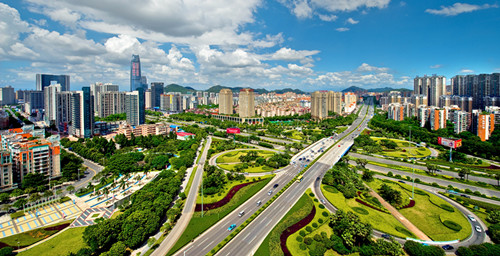 Urban landscape of Dongguan [Photo by Zhao Chaoman/provided to chinadaily.com.cn]