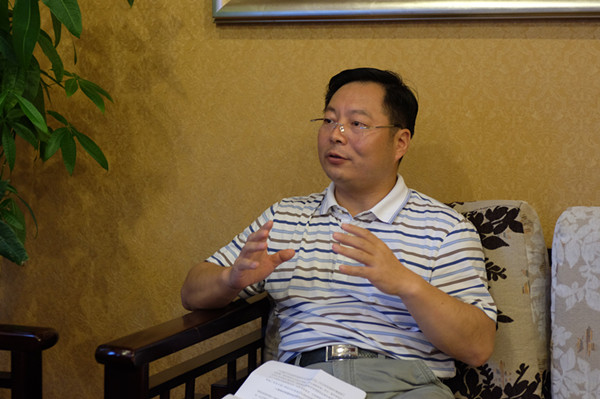 Chen Tiejun, deputy director-general with Hainan Provincial Tourism Development Commission. [Photo by Huang Yiming/China Daily]
In 2010, the government revealed the plan to develop its southernmost tropical island Hainan province into an "international tourism island" in 10 years.
It has been five years since the announcement was made. So, what measures has Hainan taken to get close to the goal? How many international travelers are visiting Hainan? What is the government doing well and what are the challenges? Chen Tiejun, deputy director-general with Hainan Provincial Tourism Development Commission, answered these and other questions when we recently visited Hainan. Here are the excerpts.
What are the major challenges when it comes to marketing Hainan as an international tourism destination? With so much competition in Southeast Asia,is it difficult to attract the tourists?
Yes, it is a big challenge. First, the development of Hainan's tourism started later than the surrounding islands of Southeastern countries like Thailand, Indonesia and Malaysia, whose tourism facilities and services are more mature.
Second, the travel cost in the surrounding countries is lower than that in China, especially in recent years, as the value of yuan has risen.
Third, Hainan is small province with a small economy. So, the cost of developing international airlines is relatively high for us. That's why we only have a small number of direct international flights so far.
Hainan seems to be known to only certain types of foreigners, such as those who like golfing or those who go to the Boao Forum, but little is known to others in the West. Do you think it's true?
Yes, that means we have a lot of work to do. We are known internationally to certain countries, such as Russia and South Korea. But in Europe and the US, we are not as well-known as the Southeastern Asia islands. At the same time, our marketing to international travelers is not as strong as the Southeastern countries. For instance, I always see travel commercials of Thailand, Singapore and Vietnam on BBC World channel each July and August during summer vacation. Such commercials would cost 20-30 million yuan for two months, but we don't have this kind of budget.
Is advertising enough or do you have to do other things? We are adjusting our strategy by doing more online marking, which is more cost-effective. For example, we have worked with the BBC website to build a special webpage which introduces Hainan's tourism on their website. We update the page twice a month with the latest news, photos and videos. We also do similar cooperation with TripAdvisor. These promotions have received good response.