These days, most people can live without a television, but a computer with Internet access is practically a necessity.
This trend is paying off for online video portals. LeTV is one of the top players in the industry.
Among the country's first video companies to be listed on the A-share stock market, LeTV's business interests include everything from online video and e-business to education and tourism.
In addition to providing video content for partner video websites, it also has made deals with several large online shopping portals, including Jingdong, Taobao, Dangdang and Jinshan, to offer them comprehensive services, including uploading, transcoding, saving and video playback.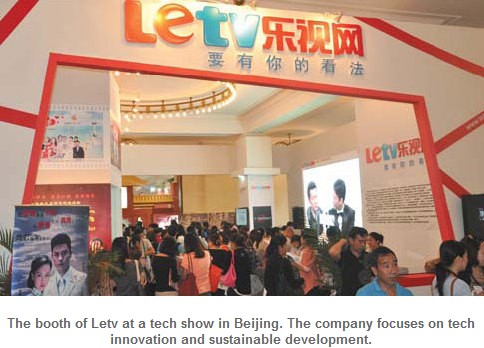 LeTV holds the rights to a large catalog of TV dramas. It is licensed to stream more than 90,000 episodes and 5,000 films online.
Over the years, LeTV has built a complete industry chain.
For example, its sister company LeTV Film provides content for the online video portal.
Every year, the film company makes and releases nearly 30 movies, some of which had excellent box office returns, like The Expendables 2.
LeTV also unveiled several high-end intelligent TV top boxes.
It even came out with its own television brand called "Super TV" last July.
The three-dimensional television costs 6,999 yuan. LeTV is gaining a foothold in the rising mobile video market. Currently, its client software has been equipped on more than 50 million smartphones and laptops.
Now, LeTV is shifting its focus back to the traditional television market. It developed the LeTV store, which enables the television to become a family's entertainment and information center.
The LeTV store is like a media supermarket, from which customers can get their preferred content, including links to social networks, videos, games and other online applications.
The company aims to become the country's largest online video service provider in the next five to 10 years, its executives said.
"Our corporate culture is 'passion, innovation, perfection and sharing,' " said a LeTV executive who declined to be named.
"We will create a larger business by constantly making innovations in technology, content, service and product. Providing a perfect customer experience for our clients and building the company into a world-class enterprise are our pursuits."
Actually, LeTV is one of the many companies in the emerging industries that operate from Haidian park of Zhongguancun.
"Our growth would not be possible without the support from Haidian park, which provides considerate services and favorable policies," said the unnamed executive from the company.
xuxiao@chinadaily.com.cn