Peru eyes digital Belt and Road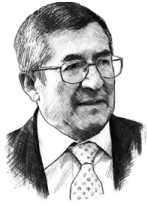 Juan Carlos Capunay, Peruvian ambassador to China [CHINA DAILY]
The 19th CPC National Congress has great significance for the world as the second-largest economy strives to boost interconnectivity and seek inclusive development, according to the Peruvian ambassador.
Juan Carlos Capunay said the Party is expected to focus on boosting regional integration through the Belt and Road Initiative during the high-profile meeting, to begin on Oct 18.
The initiative will "improve the regional areas that it physically covers", and "have a clear and pragmatic projection to other areas", he said.
"If the Chinese economy is affected, the world economy will be affected. If the Chinese economy improves, the whole world will improve," Capunay added.
The Belt and Road Initiative, put forward by President Xi Jinping in 2013, aims to revive the ancient Silk Road trade routes and boost interconnectivity with a focus on infrastructure. In May, Beijing hosted the Belt and Road Forum for International Cooperation, which was attended by 29 foreign heads of state and government leaders.
Capunay, a veteran diplomat with a career spanning 47 years, said while it is impossible to build a road from China to Latin America, it is feasible to build a digital link.
"Peru believes the Belt and Road is an important process for Latin America because it is not a project that is trying to impose one single economic model. It is based on dialogue and mutual understanding," he said.
Noting that Peru is a member of the Asian Infrastructure Investment Bank, the ambassador said China has made a "remarkable contribution" to improving the global financial system.
"The most important thing is that the AIIB is an equal bank. In some other institutions, a member's importance depends on their contribution. In this bank, one member has one vote, so everyone is equal," he said.
Capunay expressed optimism about the development of Sino-Peruvian relations, as both sides are dedicated to the implementation of the consensus reached by the top leaders.
In November, Xi and his Peruvian counterpart, Pedro Pablo Kuczynski, agreed to upgrade the free trade agreement signed by the countries in 2009 to open the market wider.
"President Xi and President Kuczynski agreed to improve trade. We are doing so now. We are opening the market on both sides," he said.
China is Peru's biggest trade partner, export market and source of imports. Trade between the two countries reached about $17 billion last year.
"We have the largest Chinese community in Latin America," he said. "A number of Chinese customs are celebrated, and some Chinese words have even entered the language.
"So we have a strong foundation. We have a long-standing history of relations, so we can share a bright future."