Shanghai eyes Belt and Road key role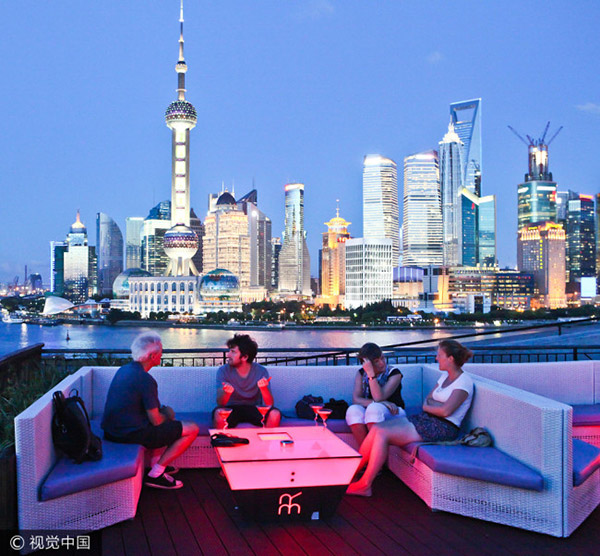 A group of international visitors rest on a rooftop at the Bund, Shanghai, July 30, 2012. [Photo/VCG]
Shanghai aims to become an investment and financing hub for markets involved in the Belt and Road Initiative and a global renminbi financial services center, said city authorities on Wednesday.
"The city will step up the opening of the financial market, leveraging resources and innovative mechanisms at the China (Shanghai) Piloted Free Trade Zone, such as cross-border financing and investment, and the issuance of renminbi-denominated bonds," said Tang Zhiping, director of the Shanghai Municipal Development and Reform Commission.
Shanghai municipal government released a circular on Wednesday that includes 60 measures to maximize the impact of existing policies to better serve demands from countries and regions involved in the Belt and Road Initiative in aspects including trade and financing, cultural exchanges, education and human resources, innovation and technological development, and policymaking.
Shanghai will support overseas institutions and enterprises to issue renminbi-denominated bonds in Shanghai's financial market, according to the circular.
In March 2013, Russia's company UC RUSAL, world's second largest aluminum supplier, became the first company from a market involved in Belt and Road Initiative that has issued renminbi-denominated bond at Shanghai Stock Exchange.
Since then, the combined size of renminbi-denominated bonds issued in Shanghai have surpassed 200 billion yuan ($30.32 billion). Issuers include global financial institutions, central and local governments of other countries, and overseas non-financial enterprises.
By the end of August, the Shanghai Gold Exchange had 12 international members in markets involved in the Belt and Road Initiative, accounting for 20 percent of its international members.
"Shanghai will also take advantage of cross-border renminbi business facilities to better serve trade and financing for markets involved in the Belt and Road Initiative", the circular said.
The Cross-Border Inter-Bank Payment System in Shanghai will enable cross-border settlement and clearing in renminbi that facilitate trade and financing for overseas companies operating in China.
Currently, 19 banks have been using the CIPS system to help clients in these businesses. More than 670 companies have used two-way cross-border renminbi cash pooling services in international trade and financing with a combined transaction volume of some 865 billion yuan.
"The Belt and Road Initiative is an open platform that creates opportunities to markets which are involved, and the influence and benefits have already been expanding from initially infrastructure to other sectors", according to a recent report on Belt and Road Initiative by consultancy services provider PwC.