Mobile internet: The 'automobile' driving China's growth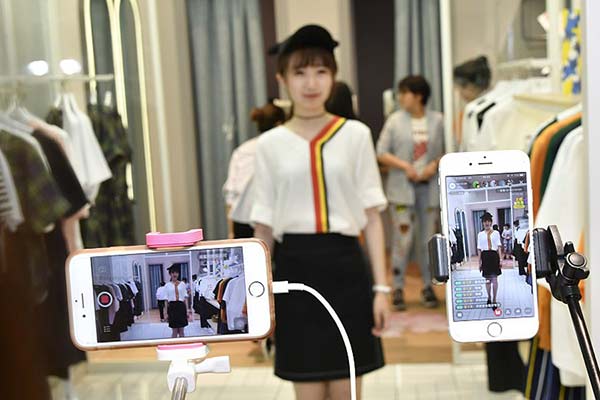 An online celebrity uses live streaming to conduct online promotion for a clothing store in Hangzhou, Zhejiang province, May 20, 2017. [Photo/VCG]
The love of cars has made the US a country on wheels, whereas the Chinese people's use of mobile internet has taken China on information superhighway.
"Americans' reliance on cars in daily life has made the US a country on wheels, meanwhile Chinese people's increased use of mobile internet [over the last five years] has made China a country on mobile internet," said Gao Hongbing, Alibaba vice-president and head of AliResearch, at the launch of a report on Monday.
The report used 10 key phrases to summarize major trends in China's internet development over the last five years, such as technological innovation, business innovation, consumption upgrade, employment, and poverty reduction with the help of e-commerce.
"All facilities in US cities, including road, traffic, supermarket and residence, are designed to help car drivers; however, in China, services, such as Mobike and Taobao, are managed thanks to mobile internet," he said.
The report citing data from China Internet Network Information Center, a government-backed industry body, and global management consulting firm Boston Consulting Group, showed that China's internet use on mobile phones presents growth momentum.
As of June, the number of mobile internet user has reached 723.61 million, increasing from 419.97 million in 2012. In 2015, the number of apps installed on mobile phones on average was 38, and in big cities this figure was as high as 46, far ahead of 33 in the US and world's average of 26.
A Chinese lifestyle in the information age - more online, more convenient, more green and more globalized - has been unfolding, the report said. And it called these changes "from toe tip to fingertip", or online shopping replacing trips to physical outlets.
According to AliResearch, China's mobile payment totaled $8.52 trillion in 2016, about 70 times as high as $112 billion in the US. Until June of 2017, 295 million people in China have registered on take-out platforms, along with 106 million shared bike users and 278 million hailing taxi through the internet.
In the aspect of online consumption, middle- and high-end expenses on Alibaba's retail platforms stood at 1.2 trillion yuan ($182 billion) in 2016, equivalent to Chinese people's whole year spending volume abroad.
The Ali quality consumption index, released by AliResearch, rose by 7.2 percentage points in the past 5 years to come at 34.4 as of March this year, against a drop in retail sales growth by 5.3 percentage points in the same period. The Ali quality consumption index is meant to calculate the proportion of midlevel to high-end products consumption among the total expenditure.
'Made in internet'
Some manufacturing enterprises have already started to transform in line with consumption-end data, which are called "made in internet", referring to production on the basis of internet, Gao said. He added that a huge change will happen in the supply and industry chains in this regard.
The statistics from Ministry of Industry and Information Technology show that more industrial enterprises adopted e-commerce during 2013-2015, with the penetration rate of e-commerce in manufacturing up more than 40 percent in the three years.
EPEC.com is one of these cases. The e-commerce platform is supported by China's oil giant Sinopec's industrial resources and supply chain services and facilitates SC2B (supply chain to businesses) transactions. And the trade on the platform has accumulatively involved more than 127 billion yuan and more than 1.98 million commodities have been sold on it since EPEC.com started to run in April 2015.