Rural migrant's hometown grape farm earns $90,000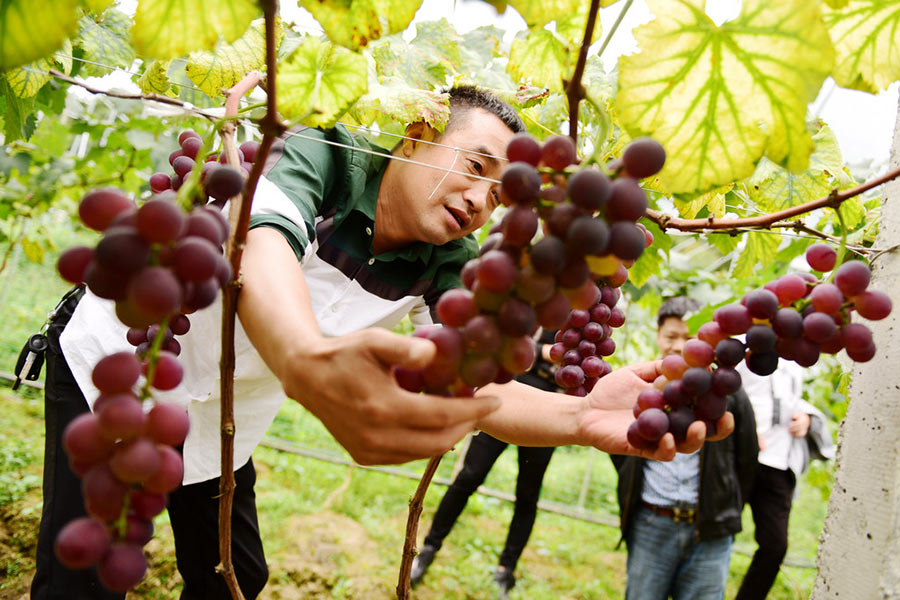 Liu Gangxing examines grapes on his farm in Enshi, Central China's Hubei province, Sept 27, 2017. [Photo/IC]
After 10 years' work in Ningbo, East China's Zhejiang province, Liu Gangxing came back to his hometown — Enshi in Central China's Hubei province — and invested over 6 million yuan ($900,000) in a grape farm with his family members in 2016. The farm has earned 600,000 yuan ($90,000) in sales this year.
As tourists enjoyed time at the farm on weekends, the 15,000 kilograms of grapes in their first harvest year were sold out within more than 10 days. The grapes also sold to other cities like Beijing.
The 48-year-old man plans to develop the 600 mu (40 hectares) of land into a grape farm with numerous functions, including a production base, a place for sightseeing and a vocation resort where people can gain farm experience.
Apart from grapes, strawberries, cherries and blueberries are also planted on the farm, while more than 700 chickens are raised here. The farm is preparing to provide barbeque services this October.
In addition, a 10,000-square-meter racecourse, a 3,000-square-meter camping base and 600-meter fishing area along the river are all under development.