Growing exchanges bringing US and China closer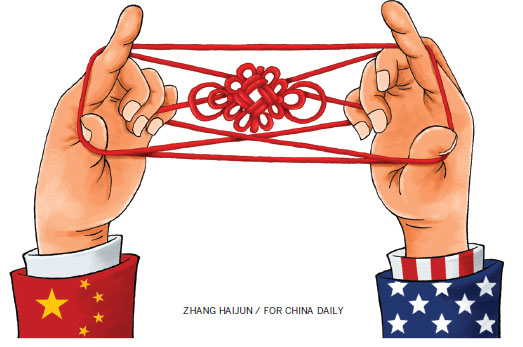 Today, 14,000 US students come to China each year to study, according to US Education Secretary Betsy DeVos.
That number is set to grow, as 100,000 US students will be awarded opportunities to study in China in the coming four years. And an additional 10,000 credit scholarships are to be provided to US youngsters by the Chinese government over the same period, according to an action plan agreed at the first US-China Social and Cultural Dialogue.
The inaugural bilateral dialogue was co-chaired by Chinese Vice-Premier Liu Yandong and US Secretary of State Rex Tillerson on Sept 28 in Washington. It was followed by a public event at George Washington University featuring a "Nextgen Dialogue" panel after speeches by Liu and two of President Donald Trump's cabinet members, DeVos and Secretary of Transportation Elaine Chao.
Although it was held for just half a day, the dialogue charted a course for how people in the two countries can "live together for the next 50 years and build a shared future", as the theme for the event proposed.
Through the dialogue, Washington and Beijing have pledged to produce 130 outcomes involving an array of cooperative areas in education, social development, science and technology, health, arts and culture and the environment and conservation.
Among the many pledges and projects, I've found the following takeaways most encouraging, as they will provide tangible benefits and give a boost to bilateral ties.
Already, 1 in 3 international students in the US comes from China, and they generate billions of dollars for the US economy every year, the US State Department said in a summary of the dialogue on Sept 29. Now an additional 100,000 Chinese students will be coming to study in the US over the next four years.
As for the American students in China, DeVos said she hoped they would "get to know fellow students and experience China's beauty and culture".
The two sides also agreed to promote sports exchanges, bilateral exchanges and cooperation on gender equality and women's empowerment.
Cooperation on health is to be made a "vital priority" in the bilateral relationship, which will yield more results of benefit not only to the two countries but also the rest of the world.
Cooperation in this area also shows the world's two largest economies are jointly providing public goods for the world. For example, they agreed to continue to jointly plan and carry out key exchanges, training and capacity building programs related to health innovations, preventing the spread of infectious diseases and public health collaboration in Africa.
The historic China-US Science and Technology Cooperation Agreement is to be renewed, meaning ever greater scientific and technological collaborations in the years ahead. Already under the 1979 pact, the two countries have supported thousands of cooperative programs.
US historian John K. Fairbank famously said in 1972, "Since 1950 Washington has officially sent more men to the moon than it has to China, even though China is closer, more populous, and the trip less costly and dangerous."
The growing number of people-to-people exchanges in education, arts and culture, science and technology will build stronger social and public support for the development of Sino-US relations and forge a better understanding between the two peoples, breaking down the barriers to a more constructive partnership.
The author is deputy editor-in-chief of China Daily USA.
huanxinzhao@chinadailyusa.com