Good kindergartens need efforts of all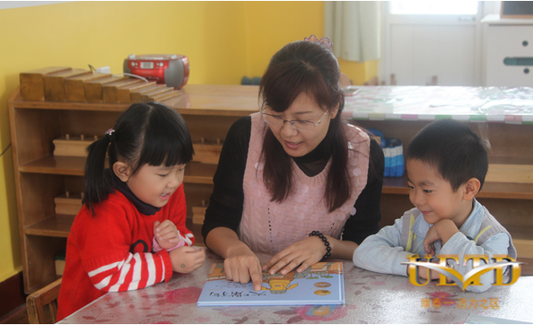 A teacher teaches two children at the Bowang Liuyou Kindergarten in Urumqi city, Xinjiang Uygur autonomous region. [Photo/uetd.gov.cn]

The State Council, China's cabinet, has dispatched a team of inspectors across the country to check teachers' ethical standards and working styles. The move comes after recent media reports on "child abuse" at an RYB Education New World Kindergarten in Beijing. Although a kindergarten teacher was detained on suspicion of pricking children and two education officials have been put under investigation, the case still deserves to be viewed from both the moral and legal perspective.

Many have attributed the ill treatment of children mainly to the shortage of kindergarten teachers, both in terms of numbers and qualification. And they believe the problem can be solved if the number of government-run kindergartens is drastically increased. Which makes sense to some extent.

Theoretically speaking, if kindergartens offer decent salaries and good working conditions, it will attract not only more qualified teachers but also more investors, and thus help raise the quality of preschool education in China.

But in reality, that is not likely to happen soon due to certain reasons.

To begin with, the functions of kindergartens are not well defined by any law or regulation. Kindergartens should be regarded as social welfare institutions that also provide preschool education, with the emphasis being on childcare. A qualified kindergarten ought to teach children the basics of the three Rs, namely reading, writing, and arithmetic, and provide a good environment for them to interact so that they can learn from each other as well.

But many young parents believe kindergartens play a very important role in a child's education and, therefore, want them to deliver a lot more than they ought to, because they fear their children might lag behind at the starting line. This has forced the training programs for kindergarten teachers to focus more training them to teach, rather than providing them with the skills to take for young children.

Kindergarten teachers should be competent and skilled enough to arrange healthy meals and organize various activities for children so that they develop healthy bodies and minds, and adapt to the collective life without mothers. Therefore, the job requires the ability and dedication to serve the children, as well as the faculty to respond to unexpected situations that only well-trained people can have.

Also, preschool education in China is legally not a part of compulsory education, so kindergartens are part of the social service sector and, hence, the onus is on the government to improve the sector.

Moreover, the number of government-run kindergartens in China is far from adequate to meet the fast growing demand of preschool education, while those run by companies, individuals and social organizations charge very high fees and not considered as good as their public counterparts.

That a lot more kindergartens are needed to meet the demand is beyond debate. What needs to be debated, though, is: Should the sector be thrown open to entrepreneurs? Given its limited funds for the purpose and slow decision-making process compared to the fast-changing social needs, the government cannot be expected to build enough kindergartens in a short time to meet the rising demand for preschool education. Perhaps more entrepreneurs and individuals should be encouraged to participate in the sector through some supportive policies. This will help build a competitive market, in which only kindergartens with better resources and service will succeed.

Kindergarten teachers, too, should get their due — better salaries and working atmosphere for instance — so that more qualified individuals apply for such jobs and institutes of higher learning offer tailored courses for kindergarten teachers.

It is also important to define the functions of kindergartens.

More importantly, public supervision of the kindergartens should be made mandatory. Only with the combined efforts of the entire society will the problems of kindergarten management be better solved.

The author is a professor of law at Zhongnan University of Economics and Law.