EU could learn some economic growth lessons from China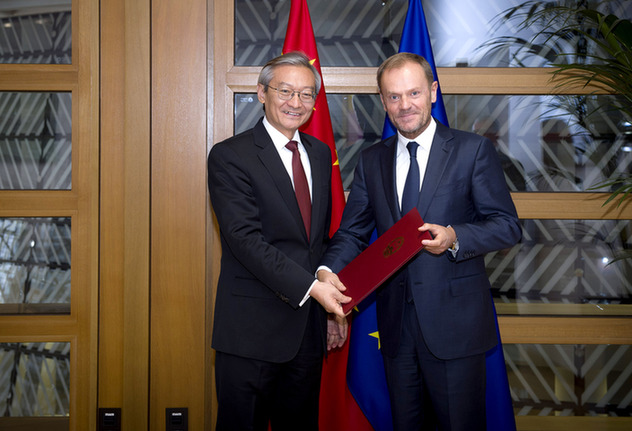 Zhang Ming, China's new ambassador to the EU, submitted his national credentials to European Council President Donald Tusk on 8 Nov, 2017 in Brussels. [Provided to China Daily]
The European Union is an economic bloc with disparities among its 28 member states. For example, Luxembourg's per capita GDP last year was roughly 12 times more than Bulgaria's. In addition, Western European countries are better off than their Central and Eastern European counterparts.
This is the stark reality that EU policymakers have to keep in mind while trying to find ways to develop a more prosperous and stable economic bloc. In other words, bridging the development and wealth gap among the member states is a pressing task for EU politicians.
The EU has set 2020 as the target for optimum employment, investment in research and development, low-carbon economic growth and social inclusion. But these targets are at risk of being missed. The job market is still tough, and many companies are not yet capable of investing enough in R&D. And 118.7 million people, or 23.7 percent of the population of the 28 member states of the EU, were at risk of poverty or social exclusion at the end of 2015.
These difficulties are mostly faced by the Central and Eastern European countries. To overcome them, many CEE countries' politicians have decided to increase their connectivity and attract foreign investments, just as China did in the early days of reform and opening-up.
Waldemar Pawlak, twice Polish prime minister in the 1990s, was a European pioneer in this regard. In 2009, when Xi Jinping, then vice-president of China, visited Poland, Pawlak, then Poland's deputy prime minister and minister of economy, raised the idea of establishing Poland as a regional hub. This concept was evaluated and developed by Xi. That, according to Pawlak, was the origin of the platform of the 16 CEE countries plus China that we know today as the"16+1" cooperation mechanism. The heads of government of all the 17 countries met in Budapest on Monday for the sixth time, after the first such meeting in Warsaw in 2012.
Apart from various economic exchanges, this framework has also served as a mutually-beneficial platform to learn from each other's governance experiences. European countries want to learn from China's infrastructure development and trade-led economic policy to achieve fast and stable economic growth.
Several CEE countries have also decided to turn their major cities into regional hubs of aviation, finance, industrial development and/or high-tech zones. Under this framework, China has been helping them to turn their ambition into reality. For example, by the middle of next year, six direct flights are scheduled to link China's big cities and Prague, which can help the Czech Republic capital to turn into an aviation hub linking Europe and China.
These are some of the achievements that the EU expects to fulfill as part of its 2020 strategy. But it is still imperative for the EU to remove the regional disparities in order to achieve its 2020 development goals.
China's strategy offers some food for thought in this regard.
Beijing's Westward development is related to its western China development program-and the Belt and Road Initiative-to bridge the national development gap. Recently, China announced that cities including Beijing, Tianjin, Shanghai, Guangzhou, Chongqing and Chengdu will become its "central mega-cities", or its major economic poles. The southwestern Chinese cities of Chongqing and Chengdu are new entrants to the list, which is an encouraging sign, and the success of this plan will turn China into a better balanced economy.
Does the EU have such a plan-to turn Athens, Warsaw, Budapest, Prague and other cities into real hubs and make them as important as London, Paris and Frankfurt?
An incremental development strategy is vital to common prosperity. Brussels is set to move two central EU institutions from London after the United Kingdom leaves the bloc, which is fine. But the fact that Central or Eastern Europe doesn't have such an institution is worrying.
The EU has enough reason to learn from some of the economic and development policies of China.
The author is deputy chief of China Daily European Bureau. fujing@chinadaily.com.cn