US-China trade at a global crossroads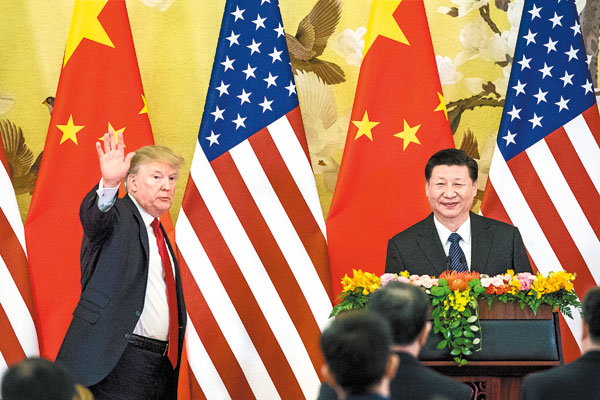 President Xi Jinping and US President Donald Trump speak to reporters at the Great Hall of the People in Beijing on Thursday. XU JINGXING / CHINA DAILY
Despite "America first" policies, President Trump's economic agenda needs expanding trade with China.
President Donald Trump began his grueling 12-day Asia tour amid the US special counsel's first indictments, which cast a shadow over the White House's future.
Nevertheless, Trump and President Xi Jinping were able to sign deals worth $253 billion, which makes the visit to China historic in terms of the value of historic business agreements struck.
If anything, the visit demonstrates that, despite an insular foreign policy, Trump's economic objectives cannot be executed without expanding trade with China.
Rapid trade expansion
In 2016, US-China trade amounted to $579 billion, while Trump's singular focus is on the $368 billion trade deficit. Yet, merchandise trade is only one aspect of the broad bilateral economic relationship. Today, China is the US's second-largest merchandise trading partner, third-largest export market and biggest source of imports.
The increase of imports from China in the US and the bilateral trade imbalance is largely the result of the shift of production facilities from other, mainly Asian countries to China. Since 1990, the share of US imports from China has soared sevenfold to 26 percent. Today, China is the center for global supply chains, which has greatly lowered US multinationals' costs and thus prices for US consumers.
During his tour in Japan, South Korea, China, Vietnam and the Philippines, Trump has been accompanied by CEOs of some 30 companies. Determined to sign huge deals during the China visit, they did not want Trump to undermine access to what they see as the $400 billion Chinese market, based on US exports of goods and services to China, sales by US foreign affiliates in China, and re-exports of US products through Hong Kong to China.
The same goes for services, foreign direct investment (FDI) and US Treasury securities. China is America's fourth largest services trading partner (at $70 billion), third-largest services export market, and the US has a major services trade surplus with China.
The combined annual US-China investment passed $60 billion in 2016, but there is room for far more as China is the world's third-largest source of global FDI.
Finally, China remains the second-largest foreign holder of US Treasury securities ($1.2 billion as of August 2017), which help keep US interest rates low.