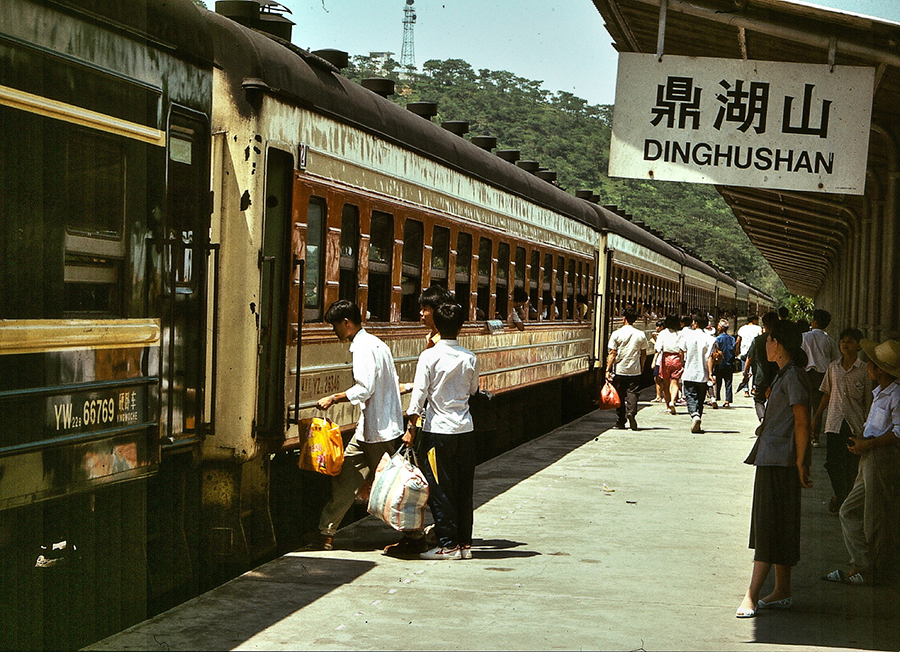 Dinghushan Station 1993. [Photo by Bruce Connolly/chinadaily.com.cn]
How the completion of a major railway project introduced Bruce Connolly to southwestern Guangdong's stunning landscape and a fascinating river city.
1987, my first rail journey through China, travelling down to Hong Kong, effectively one railway connected everywhere north of Guangdong with the Pearl River Delta. A branch line, the Guangsan, dating from 1904, ran from Guangzhou through Foshan to Sanshui. Why Sanshui? A maze of rivers -- the West, the North and the Dongping Waterway -- come together at Sanshui. The Guangsan became an interface between water and rail.
It is well worth looking at satellite images on smartphones to understand the complexity of Guangdong's waterways. For centuries much of southern China's human and freight traffic moved by water with manmade sections facilitating connections between the West River and Guangzhou. The West flows down from Sanshui towards Jiangmen, entering the South China Sea just west of Macao. It also allows for travel beyond Nanning, the capital of Guangxi, almost to the border with Vietnam. The river becomes the West downstream from Guangxi's Wuzhou where the Xun River merges with the Gui River. The system culminating with the Pearl River is second only to the Yangtze in importance for China.
Travelers, including myself, found the 24-hour boat journeys to Wuzhou a relatively convenient way to head onwards toward Guilin and Yangshuo. Standing on deck with the scene and activity continually changing, it was an excellent way to appreciate the importance of such water highways for the region. Today, over a remarkably short period, many of the long distance river passenger journeys have disappeared although some local ferries along with fast catamaran services from Hong Kong to Pearl River Delta cities remain; they were often my preferred way of entering southern China.