Corporate scams deal a big blow to Japan's image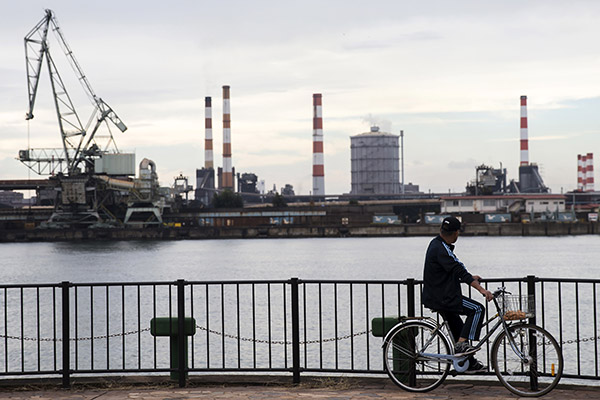 The imposing red and white chimneys of Kobe Steel Ltd plant dominate the harbor of Kakogawa, Hyogo, Japan. [Photo/Agencies]
Two recent scandals have tarnished Japan's image of a manufacturer of quality products.
On Thursday Nissan Motor Co said it is suspending domestic production of vehicles for the Japanese market for at least two weeks to address misconduct in its final inspection procedures that has led to a recall of 1.2 million of its vehicles.
This was followed by a more catastrophic scandal: On Oct 8, Kobe Steel admitted it has systematically faked data about the strength and durability of some aluminum and copper for more than a decade, while its former employees said the data tampering dates back to the 1970s. The 112-year-old steel-maker's fraud has very serious consequences as its aluminum and copper products have been used by Japanese companies, and their overseas counterparts such as general Motors and Boeing, to make a wide range of products, from cars, bullet trains, planes and rockets to defense equipment. Kobe Steel says the aluminum and copper data was fabricated because of delivery deadlines.
The US Justice Department has demanded Kobe Steel to submit its documents related to the fabrications. And the European Aviation Safety Agency has asked companies to suspend the use of Kobe Steel products if possible.
Some analysts have ascribed the company's fraud to fierce competition from "newcomers" to the industry such as India and China.
Japan slipped one spot to ninth on the list of 137 countries and regions in the Global Competitiveness Report 2017-18 issued by the World Economic Forum on Sept 26, while some other economies in the Asia-Pacific region, including China, moved up.
The decline in Japan's competitiveness can be partly attributed to the massive government debt, lingering deflation and the inflexible labor market despite its comparatively high-quality infrastructure and education level of its workforce. The WEF report warned that advanced economies, including Japan, are showing signs of declining productivity, and stressed they need technological innovation.
Many large Japanese companies have expanded into too many areas and carry an inflexible labor force. The New York Times reported that Japanese enterprises' overseas acquisitions have doubled in value over the past three years, as declining business prospects at home have forced the previously inward-looking companies to venture into foreign markets. Desperate to attract new consumers, Japanese companies spent more than $100 billion on foreign takeovers last year, according to Dealogic, which tracks deal data. Measured in yen, it was a record high.
A string of corporate scandals in recent years have soiled the Made-in-Japan label, which for decades has been a byword for quality, and show how some Japanese companies compete with their rivals.
In 2011, Japanese medical equipment-making company Olympus Corp concealed massive investment losses. In 2015, the laptop-to-nuclear conglomerate Toshiba Corp admitted it had been doctoring accounts for years. Last year, Mitsubishi Motor Corp said it has used non-compliant fuel economy testing methods for decades. And in June this year, 84-year-old auto-parts supplier Takata, whose faulty airbag inflators have caused at least 16 deaths and 180 injuries and triggered the recall of tens of millions of cars around the world, filed for bankruptcy.
A deeply entrenched corporate culture has been blamed for these high-profile scandals. Major corporations recruit students straight from universities, more often than not offering employment for lifetime and high salaries. This employment system has resulted in unwavering company loyalty and employees' reluctance to report irregularities.
Experts say the Japanese government's measures to reform corporate governance may be partly responsible for the exposure of the scandals.
Japan adopted Corporate Governance Code in 2015, setting rules on disclosure, shareholders' rights and independent directors in an attempt to promote greater corporate discipline and cultivate a more shareholder-friendly environment for investors. The progress has been encouraging, as at least two independent directors occupy chairs on the boards of four out of five Japanese companies.
But successive revelations of corporate malfeasance have belittled the Japanese government's efforts to improve corporate governance, which is seen as the key to unlock the country's productivity in the face of an aging population and shrinking workforce.
The author is China Daily Tokyo bureau chief. caihong@chinadaily.com.cn