Trump should be shown the complexity of China's reality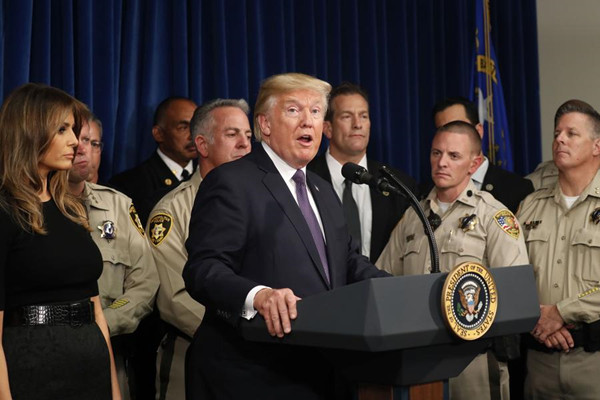 US President Donald Trump speaks next to first lady Melania Trump after meeting with police at the Las Vegas Metropolitan Police Department in the wake of the mass shooting in Las Vegas, Nevada, October 4, 2017. [Photo/Agencies]
The itinerary for US President Donald Trump's visit to China next month may already be ironed out, but David Lampton, a senior China expert in the United States, would like it to go beyond focusing on policy issues between the two countries.
For the president and any other political leader in the US or other countries who do not have much knowledge of China, it is important to get to know the whole picture of the country, said Lampton, who has traveled numerous times to China since the 1970s and is director of China Studies at the Johns Hopkins School of Advanced International Studies.
"This should be an opportunity to expose him to the complexity and diversity of China," he said.
The White House, in a statement released on Monday, said Trump will arrive in Beijing on Nov 8"for a series of bilateral, commercial, and cultural events", including meetings with President Xi Jinping.
It did not say if Trump, a former New York businessman, will be travelling outside Beijing to get to know more about China and its people, or if he would, like his predecessor Barack Obama did in 2009, have a town hall meeting at a campus.
Early last month, the US Department of State said the US first lady, Melania Trump, will travel with Trump.
"I know Chinese like to invite people and show them good things, modern things, all this kind of things," said Lampton.
He said this is all to the good, but they should show him the diversity of China, "show what it is to govern China, how big it is-most provinces in China are bigger than European countries-how heterogeneous it is," he said.
Lampton, who has written several books on China, said visitors to the country are fully acquainted with the modern China, like Pudong in coastal Shanghai. But China is a very diverse country, and it still has a lot of people that are at a modest level of economic development, the former president of the National Committee on United States-China Relations said.
"I'm a teacher, and I believe to know more is a good thing," Lampton said. "The more you know when you make a decision, the better off you are."
If US leaders make policy assuming all of China is like Pudong then of course they're going to treat the country as a very powerful country with no problems, he said.
US leaders need to understand that, like themselves, Chinese leaders have a lot of things on their minds, Lampton said. The country has its own problems to solve, and "Chinese leaders aren't spending all their time thinking about how to make life more difficult for Americans".
"They're trying to think how to improve life for Chinese people" he said. "So I would say a very important objective of the visit should be to give Trump a balanced understanding of what China is, not only what China is today, but what China wants to become," Lampton said.
From 1972 when the two countries established formal diplomatic relations to 2009, US presidents from Richard Nixon to Obama have visited cities including Beijing, Shanghai, Xi'an, Hangzhou, Guilin (in Guangxi Zhuang autonomous region, South China) and Hong Kong.
Xi had the first face-to-face informal summit with Trump at the Mar-a-Lago resort in Florida in April.
The author is deputy editor-in-chief of China Daily USA.
huanxinzhao@chinadailyusa.com