New television shows country's three transformations underway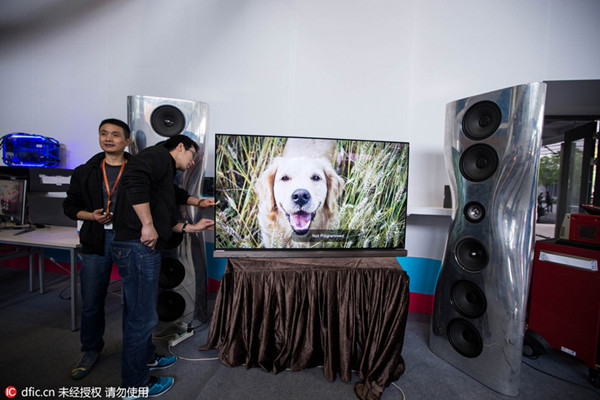 A man touches a TV screen on display at the Tmall Eco-Summit held in Hangzhou, April 11. [Photo/IC]
THE THINNEST TV in the world, just 3.65 millimeters thick, has been unveiled by a Chinese enterprise in Shenzhen, Guangdong province. Hung on the wall, it looks like a painting, not a household appliance. Yanzhao Metropolis Daily comments:
Chinese authorities always stress that China remains a developing country, although it is expected to become the world's largest economy in the foreseeable future if it can maintain the current growth momentum.
It is not only an objective judgment based on the practical national conditions, but also a reminder to the nation, especially its decision-makers, that they should remain somber-minded.
But that does not mean China is content with the status quo. Instead, China has never wavered in its efforts to become a developed country, paying special attention to catching up with the industrial economies in science and technology.
In 1987, China overtook Japan as the world's largest manufacturer of TVs. Since then China has pioneered many technologies related to television, so it is not surprising that China has now manufactured the world's thinnest TV.
In fact, China has also made the first TV with voice recognition.
President Xi Jinping proposed "three transformations" to the manufacturing industries of China: transform "made in China" to "created by China", transform quantity to quality, and transform Chinese products to Chinese brands.
Governments at various levels are taking concrete actions to realize Xi's proposed transformations by implementing favorable policies and nurturing supporting environments to foster innovation.
Last year, China produced 65 percent of the world's refrigerators, 58 percent of its TV sets and 44 percent of its washing machines. These household appliances made in China are cheaper than their counterparts produced by the developed countries, but their quality is by no means inferior to, and some even better than, their competitors.
The rise of China in manufacturing, and science and technology benefits not only the Chinese people, but also the whole world.