Chinese food: My first impression that didn't last
The opinions expressed here are those of the writer and don't represent views of China Daily and China Daily website.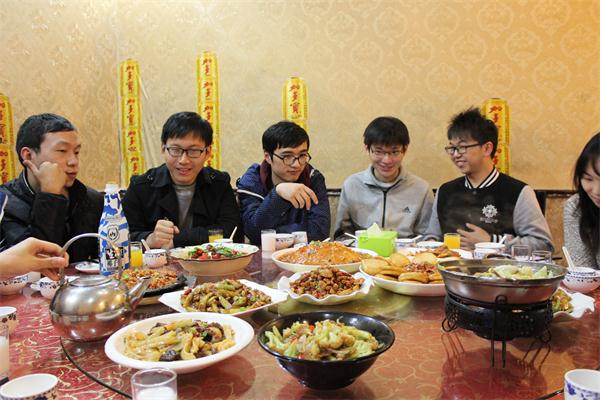 Mirza Nasir Baig has a meal with his classmates. [Photo provided to chinadaily.com.cn]
The way to a man's heart is through his stomach. This is what China offered me the moment my feet touched its ground. As someone who loves food, I couldn't help but worry about eating food foreign to my tongue. I love my country's foods and I have a bias when it comes to dishes. I have always been fond of my mom's homemade dishes and consider them the best in the world. Being far away from home for the first time, finding good food was my priority.
Obviously, the beginning of every journey is rough. My experience at Chinese restaurants left a lot to be desired. I had yet to explore Nanjing, and I would often eat at cafeterias around my university. My first date with Chinese food was not a good experience. I thought it did not suit my taste. But something unexpected happened which sprouted my interest in Chinese foods. From avoiding it, I started loving it. Chinese food is unique and delicious in its own way.
One day, my Chinese labmates took me to a Chinese restaurant near our university. It was a treat from our senior, and it was indeed a celebration of food, somewhat of a dinner gathering. As we went inside the restaurant, I saw big, round tables with a number of chairs around. It looked like a place for occasions or family gatherings of some sort. My labmates then called the waiter for our orders. Since I was new, I just let them choose the dishes for me. One by one, dishes were served.
One dish after another until the table was full. It was my first time to witness such a meal, with more than 10 dishes on the table. It was not a buffet sort of thing, but certainly it was perfect for eating in groups. As I am a slow eater, I was quite hesitant to try all the dishes. Also, knowing from my past experience of Chinese food, I thought that I should only pick what I could eat. Eventually, one of my labmates sitting next to me convinced me to give each of the dishes a try. Without too much ado, I tasted them one by one, little by little. It was like my whole concept of Chinese food changed after that. There was no single dish that I did not like. Each dish appealed to my palate, and I forgot to slow down.
There is a Chinese proverb which goes like Duō chī shūcài, shǎo chī ròu which means "Eat more vegetables, and less meat." This is one thing that I learned from my entire search for good food. Chinese dishes are cooked delicately and intricately with leafy vegetables and spices. This is the secret to their variety. Chinese people greatly enjoy eating in groups as it is the best way of relieving the stress from their everyday work routine. That experience with my labmates opened my heart to more Chinese cuisine adventures. As I visited city after city, I was caught awestruck by the diversity of food in China, from street food to local and fancy restaurants, to even foreign restaurants with a trace of Chinese cookery.
In general, the style of Chinese food is really creative, and resourceful. It seems to me that not every bit of the ingredient is wasted. They all blend in harmony and result in good taste. I guess it is a Confucian basic that the taste of any dish depends on proper mixing of all ingredients and condiments as impeccably manifested in 'chao fan', a Chinese-style fried rice, a simple dish turned into one of the best known foods in and out of universities. You won't leave China without eating it.
One cannot deny that food is one main source of our happiness and it is indeed our thirst for survival. China won my heart when it got through my stomach.
The author is a student in Nanjing University of Science and Technology.