My Chinese experience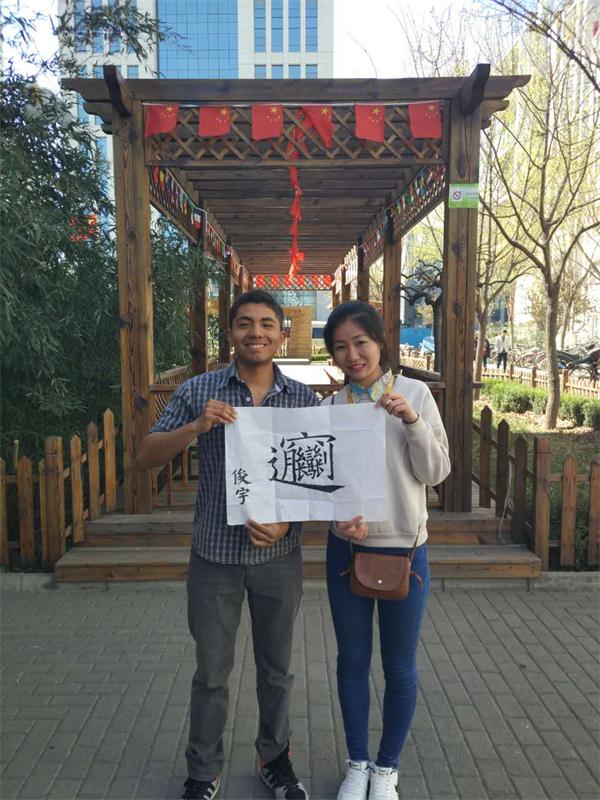 Nestor Matus poses a photo with his classmate. [Photo provided to chinadaily.com.cn]
The opinions expressed here are those of the writer and don't represent views of China Daily and China Daily website.
Arriving to Beijing hasn't been an easy step in my life, not even small, since the first moment I stepped on this land I was exposed to a new language, which I didn't understand anything so that was Chinese great wall, it was impossible for me to ask directions, order food, communicate with people, therefore I didn't feel in home. My first week in Beijing was hard because the customs are not the same as in my country, when I needed help local people tried to help me, but there was a lack of communication, it was a miracle how I survived the firsts weeks; as a result of those days I was determined to learn Chinese no matter what, because I don't want to be the rest of my experience in China as a true laowai (always foreigner).
It's important to know the language, so I needed to sacrifice a lot in the first of my master in Beijing, which means attend to classes from Monday to Sunday a heavy work load for me, I didn't had weekends to relax.
My first class of Chinese was not easy, actually I was intimidated by my classmates because they knowledge compared to my was superior, I felt like an insect, that situation did not stop me, because I was in the process of learning a new language so for me it was a normal situation but I needed to be patient, it was impossible to learn Chinese as fast as I can, it is a slow process however constancy helps to get good results.
Chinese classes are a great tool, I learned grammar, listening, reading comprehension, and oral expressions but classes are not everything, it's necessary to practice every day and make an habit of it, in my experience, attend to classes is the 50% of the way to learn Chinese, the other half its necessary to experiment in the real world, because in the beginning I was learning vocabulary but I couldn't use since I was too shy, then one day I decided that I needed to be the king of oral expression, in order to achieve my goal I started to speak to everyone, from teachers, pedlars, strangers in the street, etc; that little change in my behavior was sensational, I was talking Chinese or a funny one because people made funny face expressions clearly I was talking something but not Chinese, so I needed to give the best speech with them to get what I want, after five months I was able to speak basic conversations with locals, my dream was getting shape, a good shape, also I was able to read characters, so I wasn't so lost in the city.
As I was going to class and practice after them I was gaining confidence over my language skills, but I still needed to take my skills to the next step, so I needed to be more curious about my environment, so I went to explore every aspect about my neighborhood, and the city, so I can be like a local too.
Now I feel Beijing is my home, learning Chinese is a good tool to make friends, try food and explore the city.
The author is a graduate student from Beijing University of Technology, and now he works in Mexico.