Chinese E-pay development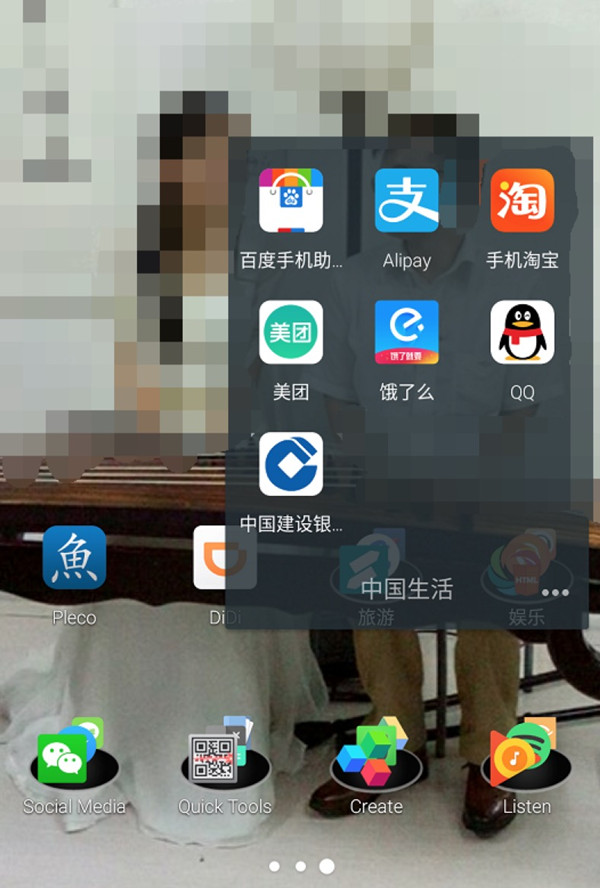 Pictured above are the author's apps of choice, including QQ, Taobao, and Alipay.[Photo provided to chinadaily.com.cn]
The opinions expressed here are those of the writer and don't represent views of China Daily and China Daily website.
A couple weeks after settling into China for the first time, I was armed with a new phone number, Chinese bank account, and my WeChat that was connected to both. Picture this: it was already pretty late at night, and I hadn't eaten yet. I felt too tired, or lazy — or both — to cook my own food, or even to go out to a restaurant a block away from my house. Luckily, China is wonderful and here I have home delivery right at my fingertips. I can open either Meituanor Ele.meon my phone and start ordering whatever I desire.
As China is a fairly globalized nation, I had a plethora of options beyond the standard Pizza Hut, McDonald's or Taco Bell fast food chainsone might find in the US, — though those are included too, with the caveatyou might be a bit hard-pressed to find Taco Bell. I like Chinese food, so having more options in this case is a big bonus. I decide to get some noodles (zhajiangmian), use my digital hongbaoto get 6 kuai off and confirm my payment through WeChat pay by scanning my fingerprint. It is so easy and convenient that I have to confess, I have probably had at least half of all my meals in China delivered direct to my location. And yes, they can deliver to your office, or even to where you're sitting by the side of the lake in a random park. Hopefully that gives you a glimpse of the wonders of the commercial world of China's E-pay system, but that's definitely not where it ends.
If you couldn't tell from above, I'm really quite lazy. But I still like having lots of options available to me, which remains true for shopping. Luckily, China comes to the rescue with Taobao. Now I'm sure all you expats are now saying, "But we've already got Amazon!" When I say Taobao has options, I mean options foranything you could want or need. For those who don't speak Chinese, or just don't really like searching for things on Taobao, fear not. Baopals will save the day with a completely English website that features all of the products that you can buy on Taobao — no, Baopals is not paying me to advertise for them, though I should look into that. They even have English-speaking customer service reps you can contact if necessary. Don't worry, their English is great, I've contacted them before. Baopals even showcases the crazy and cool things you can purchase online in China, such as an entire bathroom, watermelon tapping kit, or my personal favorite, a customizable bicycle. When you're finished, payment is as simple as ordering food online. The only hiccup here is that Taobao doesn't accept WeChat pay, it only accepts Alipay; however, Baopals will accept WeChat pay. I won't jump into the differences between WeChat pay and Alipay. I use both, so which you use will be more of a personal preference.
Have I said too much? No, I haven't. Let's say you're not lazy like me and actually sit down at a restaurant to eat. That's great! Just pay the bill by scanning a QR code with your phone and you're good to go. Going AA-style with a group of friends? That's fine, you can pay the whole bill and then they can jump on WeChat and transfer what they individually owe you. One perk of doing this is some restaurants will give you discounts, or points you can redeem for discounts, if you use your phone to pay. Paying after shopping at any merchant store or mall is just as easy.
"What about entertainment?" you ask. That's where Dianpingcomes in. You can find many great activities to participate in, including movies and KTV, and often if you use the app, you get a discount. I used it to purchase movie tickets to go see Fantastic Beasts and Where to Find Them in 3D with my friends earlier this year, and it cost 30 kuai a ticket rather than the 70 kuai the theatre would have charged otherwise. We didn't even have to print the tickets; they just scanned the QR code given to me after the purchase, and we were able to enjoy the movie.
Perhaps it's late and you find yourself in a situation where you need to ride the bus but don't have any money on your metro pass. No problem, as buses can now accept phone payments. If you would rather be healthy and rent a shared bike, you can simply scan the QR code on one of those orange or blue bikes to unlock it,then go on your merry way riding around the city. Again, like me, you may prefer a bit more comfort and to not exert more energy, so you can request a DiDi car to come pick you up in a few minutes and take you wherever you want. The best part is, with all of these options that payment happens through the convenience and security of your own phone.
"My phone is my life" is a real thing in China. But I think it's a wonderful thing! I hardly have to count bills anymore, and I don't get a buildup of coins from leftover change that I need to try to figure out how to use. I don't even have to pull out my bank card and swipe anything. I also always have a perfect record of all my transactions. It goes without saying that I will miss all these conveniences when I return to the States. Without a doubt, China has succeeded magnificently in its development of the online market and E-pay systems. In this area, I look forward to bigger and better things in China's future.