From India to China, 'my second home'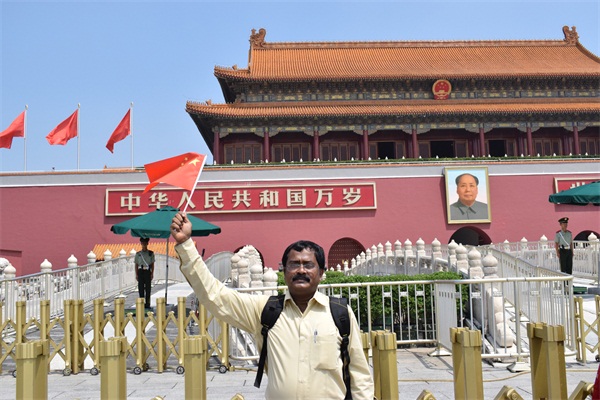 The author poses at the Tiananmen Square in Beijing on June 30, 2016. [Photo provided to chinadaily.com.cn]
This is not a fairy tale. It is a true story of a long cherished dream being fulfilled by an unemployed man living in a small village in West Bengal, India. Yes, this is my seven days of real life being in China, which I will never forget.
I have been a loyal promoter of China Radio International (CRI) and India for more than 32 years. Impressed by my love and work for China and CRI, the Kolkata Chinese Consul General Ma Zhanwu sponsored me – along with my wife, Sudeshna, my son, Udit Sankar and my two radio club members – to take a free trip to China for seven days from June 26, 2016.
Visiting Kunming for two days, we disembarked at the imposing Beijing Capital International Airport at the crack of dawn, and the heavy rains welcomed us.
On our first day, we strolled on the Qianmen Street, and met a range of people from the exotic land. Undoubtedly, with its ancient palaces, temples and parks, Beijing is a very modern, cosmopolitan city. I think everything in the Chinese capital is colossal. Whether it's the Tiananmen Square, Forbidden City, the Summer Palace, the Temple of Heaven or the Great Wall, everything is outsized. Ancient historical buildings and the glitzy skyscrapers stand side by side in Beijing.
Walking along the Qianmen Street, I enjoyed bargaining with shopkeepers in English. However, it is rather difficult to converse with Chinese vendors in English as most of them cannot speak the language. Although, I did find Chinese people to be very honest and friendly.
On 28 June, we visited the China Radio International, and it is this CRI that made China feel like my second home. All the staff of CRI English and Hindi Service greeted us with warmth and candour, which made us feel so welcomed. I had an exclusive meeting with CRI Editor-in-Chief Ma Bohui, in presence of other CRI dignitaries. He was deeply moved on seeing my love for CRI and China, and appreciated my long association with CRI, while highly praising our blood donation campaigns for CRI. In a cordial atmosphere, we exchanged our views with him about the spreading of CRI broadcasting to the grassroots level in India. Tears rained down my cheeks when he called me as a true friend of CRI and China.
During our stay in Beijing, we also visited well-known historical sites of the capital city – the Summer Palace, Temple of Heaven, Tiananmen Square and the Forbidden City. We enjoyed an enchanting boat ride on the massive Kunming Lake. Standing on the complex of the Forbidden City, I realized how much the Chinese are associated with their great history and the pride they feel about what their ancestors left for them to enjoy.
We also visited the Bird's Nest stadium and Water Cube. I had seen the opening ceremony of the 2008 Beijing Olympic Games on our TV at home. However, I had never imagined that one day I would be able to wander around the Bird's Nest Stadium. Sitting on the gallery chairs at the stadium, I was trying to catch the same pulse of the opening ceremony, which the spectators got during the Olympic Games, and by doing this, I felt proud and privileged.
On July 1, we went to see the Great Wall of China. We reached the Mutianyu Great Wall by cable car, and walked and ran on the Wall with excitement. My son and my wife told me climbing the Wall was like a dream come true. We climbed bravely to a few watch towers, and the views from the high watch towers are worth the knee-busting climb. Coming down from the Great Wall, we enjoyed a Toboggan ride. My visit to the Great Wall will remain as an unforgettable experience of my life.
We only spent five days in Beijing, and I knew we only scratched the surface on this city of the great nation of China. I was too impressed to see the modern facilities in the tourists' spots. The roads are also very clean and look like a highly systematic construction to regulate traffic, which shows the Chinese engineers skill.
Chinese people do not smoke in restaurants and on public transport, and smokers do not drop cigarette butts on the streets. The toilets in Beijing are among the cleanest public toilets I've ever seen. We saw lots of Beijingers ride electric bicycles in Beijing's streets.
I saw most of the Chinese young girls and ladies enjoy life with their boyfriends, while returning from work. It is widely seen that young couples and lovers have adopted the Western-style of kissing openly on the streets, parks and crowded restaurants. It's really fantastic!
Our brief stay in China ended on July 2. My visit to China was a short trip, but very impressive with sweet memories. When China Eastern Airlines flight took off from Beijing International Airport to India, looking down at Beijing from the blue sky, I murmured I left my heart in China.