Clean bedding is the right of every hotel guest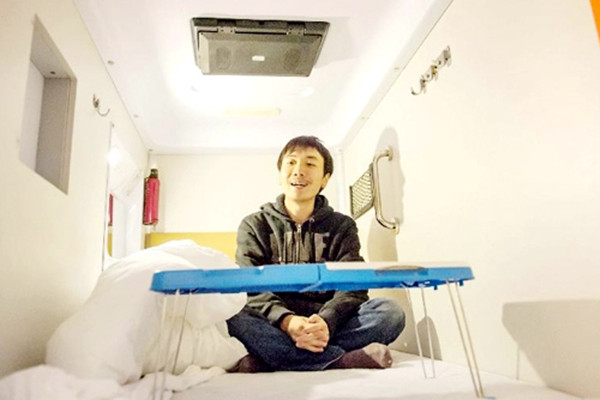 A guest erected a collapsible desk in a capsule hotel in Chongqing in 2012. [Photo/Xinhua]
AN INSPECTION by a nongovernment appraisal agency found that many a time five-star hotels in Beijing, including Hilton and Intercontinental, fail to change the bedding and toiletries of used rooms. Yanzhao Metropolis Daily commented on Wednesday:
The online post exposing the unclean hotel rooms in Beijing came shortly before the capital's health and family planning authorities announced punishments for a slew of budget hotels. Forty-six budget inns have been handed down administrative penalties and 35 are likely to be fined 69,000 yuan ($10,760) each because of poor hygiene conditions in their rooms.
Unchanged bed sheets, bed covers and pillow cases are no doubt a bummer to hotel guests. But even if they are ostensibly cleaned, there is still a risk that caustic soda-mostly used as a strong chemical base in the manufacture of pulp and paper, textiles, drinking water, soaps and detergents, and as a drain cleaner-has been used by some budget hotels as a cheaper "detergent" to clean the used bedding.
If luxury hotel rooms are not immune to compromised hygiene conditions, there would be fairly limited options left for travelers who want a clean bed and a tidy bathroom. Changing bedding is arguably the least every hotel should do to serve guests and stay in the business. Dirty bedding, on the other hand, could deal a major blow to customers' confidence in the overall management of hotels, five-star or not.
Urging customers to keep a sharp eye on the hotel rooms they book is too much to ask. Without designed detective equipment, one is not likely to notice unchanged bedding and not properly cleaned toilet seats. The supervisory gray area merits extra vigilance by the health and family planning authorities at all levels.
That established hotel operators have been accused of putting profit before proper service came as a shock to many, adding to the fact that even streamlined hotel managements have loopholes.