Tycoon's move shows mainland's space for speculation is shrinking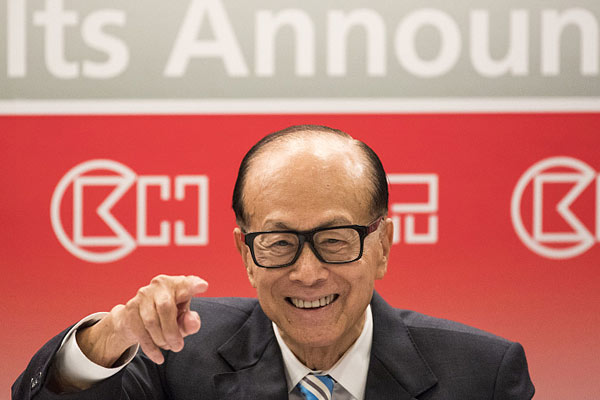 Billionaire Li Ka-shing, chairman of CK Hutchison Holdings Ltd and Cheung Kong Property Holdings Ltd speaks during a news conference in Hong Kong, March 22, 2017. [Photo/VCG]
HONG KONG TYCOON, Li Ka-shing put his Hutchison Global Communications on sale on Sunday at a price of HK$14.5 billion ($1.86 billion). Three days earlier his Cheung Kong Infrastructure Holdings and Cheung Kong Property Holdings announced they will establish a joint venture to purchase Ista Luxemburg GmbH, a German energy management service provider, and all of its affiliated companies for about HK$41.4 billion. Beijing News comments:
Li has made nearly 100 billion yuan ($14.88 billion) selling his commercial real estate projects in Hong Kong, Guangzhou, Shanghai, Chongqing, Nanjing and Beijing over the past nine years. Meanwhile, he has invested in 13 foreign companies in energy, transport and telecommunications in the United Kingdom, Australia, Ireland, the Netherlands and Germany.
But there is no reason to believe, as some have claimed, that Li is running away with the money he made in China. For someone as business savvy as Li, his so-called wealth transfer is investment for future gains.
Nor does it mean the Chinese economy is bankrupt, as some have alleged. Li's decision is in line with the changes in the mainland's real estate market amid its economic restructuring.
Offloading his commercial real estate properties in China, which he has been doing for about nine years, shows Li has judged that the profit margins of these commercial developments are becoming limited.
This reflects the fact that the room for speculation in the mainland market, which Li has built his fortune on, is becoming smaller and smaller. This demonstrates the progress the country's policymakers have made in transforming the growth model, in which the real economy, especially the advanced manufacturing and service industries, represents the sustainable future of the overall economy and is where new wealth legends will be born.