Hong Kong in China: 20 years of remarkable progress
Updated: 2017-07-21 06:02
(HK Edition)
| | | | | | | | | |
| --- | --- | --- | --- | --- | --- | --- | --- | --- |
|   | | Print | | Mail | | Large Medium  Small | 分享按钮 | 0 |
I was there when China took back Hong Kong from Britain in 1997. I saw the fireboats, dragon dances, military tattoos and last governor Chris Patten's tears. I had been an expatriate academic in Hong Kong since 1985 and was returning from Australia to witness this historic event.
Colonial Hong Kong in its last decade was regarded as a plum posting for Western expatriates. The insulting epithet applied by Hooray Henrys in England to their friends who left for Hong Kong was "FILTH" - "failed in London, try Hong Kong". This cultural sneer was reflected in the absence of the very top British corporations from a significant and high-profile presence in walking distance of the Mandarin Oriental Hotel. The big hongs then were not well known in London itself. Jardines, Swire, Standard Chartered and HSBC were prominent in 1990s Hong Kong but in London did not really sit at the same table as Unilever, ICI, Lloyds or Barclays. For academics a stint in Hong Kong might add significantly to their financial capital but was not highly regarded by British university employers for the most part. Poor old Patten was seen in some quarters as an example of FILTH after losing his parliamentary seat in England, then being catapulted into the governor's mansion. Many British expatriates found his belated attempt to introduce more democracy naive and dangerous, not because they were against democracy (though some undoubtedly thought the franchise should exclude the less-propertied members of society) but rather because they thought it should have been progressively introduced much earlier, under a strong governor such as the iconic Murray MacLehose in the 1970s.
The "one country, two systems" policy never meant that one system was full-on democracy, especially as no such thing existed in the colony. Rather the Hong Kong system was the one they actually had: Vigorous markets, international free-ish trade, somewhat representative government, tight monetary regulation, a clean capital market and real estate as the fuel for economic momentum.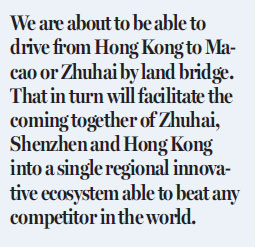 Before 1997 the Freemasons were a formidable force in Hong Kong, with a six-year waiting list for membership and many members drawn from the police, legal fraternity and banks. Now there is no waiting list, few lodges and no influence. Then the University of Hong Kong (HKU) and Chinese University of Hong Kong were the top universities locally and regarded in the West as good mid-level achievers. Hardly any academic employed back then would be shortlisted for a job at either institution now. The rise of Hong Kong universities to the global top 100, and the presence of HKU and Hong Kong University of Science and Technology in the very top table of world rankings, is a post-handover phenomenon in its entirety. It is paralleled by an increasing presence of good and great scholars from the Chinese mainland in all the top Western universities now, especially in the United States. It appears freer markets are good for scholarship but populist democracy might be bad for it. This is quite a serious point. Brexit in the United Kingdom and the trumping of Hillary Clinton's campaign in the US may not signal the end of the Enlightenment but they do not seem to reflect the outcome of calmly considered, deep and long-term analysis. China's efforts over recent years, especially the Belt and Road Initiative, do seem like the outcome of that admirable process.
The most striking contrast for me between today's Hong Kong and 1997's however is the landscape. In 1997 the harbor skyline was dominated by HSBC, the Bond Centre, the Bank of China and the Shun Tak Centre. Planes were still scraping the air over Kowloon as they came into land at Kai Tak. Within a year of the handover, Hong Kong had a world-class airport at Chek Lap Kok which still achieves the very top ranking in users' polls. Lantau Island has come alive with airport support facilities, Disneyland and a host of new suburban developments. Before 1997 Lantau attracted devout Buddhists but few others, despite being much larger than Hong Kong Island or Kowloon. The Kowloon skyline now has imaginatively designed skyscrapers. The MTR has digested the old Kowloon-Canton Railway and goes nearly everywhere in Hong Kong where there are communities. We are about to be able to drive from Hong Kong to Macao or Zhuhai by land bridge. That in turn will facilitate the coming together of Zhuhai, Shenzhen and Hong Kong into a single regional innovative ecosystem able to beat any competitor in the world. The Greater Pearl City will be a lasting monument to the success of Hong Kong and its neighbor since the city returned to China.
The author is professor of accounting in the New England Business School at the University of New England in Armidale, Australia.
(HK Edition 07/21/2017 page11)