Shared bikes should also be safe bikes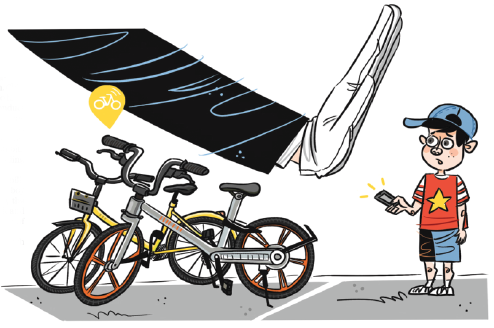 SHI YU/CHINA DAILY
Editor's Note: The parents of an 11-year-old boy, who was killed in a collision with a coach while riding one of Ofo's shared bikes in Shanghai in March, have sued the company and the coach driver, demanding 8.78 million yuan ($1.32 million) in compensation. They also want Ofo to replace its bike locks with smarter ones. Two experts share their views with China Daily's Cui Shoufeng. Excerpts follow:
Smarter locks cannot rule out accidents
Judging by the evidence available, the legal guardians of the 11-year-old, including his parents and school, should be primarily responsible for his death. Children of his age are deemed to have limited capacity for civil conduct and, hence, their civil actions should have the consent of or be ratified by their guardians. Besides, Chinese law prohibits children below 12 from riding bikes on public roads.
The coach driver's responsibility is comparatively less as the boy "stole" the bike by cracking the combination code to its lock and was riding on the wrong side of the road when the bus hit him.
The question then is: How much responsibility the bike-sharing company should shoulder?
The locks of many Ofo bikes are not difficult to open, because their four-digit combination code does not change after use and can be easily obtained. Perhaps that's why Ofo has been updating the old mechanical locks since March. The new, smart locks are harder to crack, but they have not yet been fitted to all Ofo bikes.
From the legal point of view, however, Ofo cannot be held responsible for the accident. And whether or not it has violated tort law should be decided by the cause of the boy's death. But if the locks of all Ofo bikes have design flaws and the boy cracked the combination code on one of them, Ofo should be held accountable.
Ofo might be exempted from blame, however, if it is established that the boy found the bike unlocked, because the violation of tort law consists of illegal acts and intentional mistakes. The company has moral and technological obligations, though, to update its products and pay compensation to the boy's parents. But accidents like this are not always foreseeable and cannot be avoided even after Ofo equips all its bikes with smarter locks.
Zhu Wei, deputy director of the Communication Law Center at China University of Political Science and Law