It is never too late for India to mend its way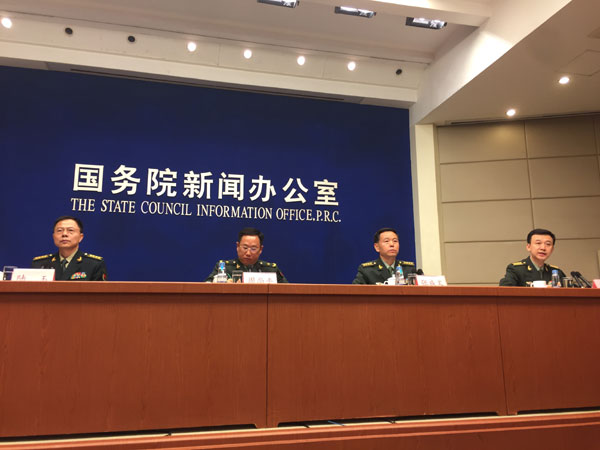 The Ministry of Defense holds a news conference in Beijing, July 24, 2017. [Photo/chinadaily.com.cn]
In a strongly worded statement issued on Monday, the Ministry of Defense warned New Delhi not to "harbor any illusions" about deriving possible gains from its adventure in sending troops across the demarcated and mutually recognized Sikkim section of the border into Chinese territory.
The People's Liberation Army's determination to defend China's sovereignty and territorial integrity is resolute, MOD spokesman Wu Qian told a news conference, adding that "it is easier to shake a mountain than to shake the PLA".
The warning should not be taken lightly.
The PLA has already taken countermeasures and will increase its targeted deployments and drills, Wu said.
And let there be no doubt, the PLA means what it says. It will not let the nation swallow the bitter pill of having its sovereignty infringed upon. This is the country's bottom line, and the PLA will defend it at all costs.
India should realize that it is solely responsible for any consequences that may arise from the deteriorating situation, because its claims that China building a road in the region is a "security concern" by no means justify its troops trespassing across the border into China's territory in order to put a stop to the work.
There are still hopes that the deadlock can be resolved peacefully, which serves both countries' best interests.
India Foreign Secretary Subrahmanyam Jaishankar recently said the two neighbors "should not let differences become disputes".
Indian National Security Adviser Ajit Doval is scheduled to pay a visit to Beijing for meetings later this week, during which it is to be hoped he will carry on that slight shift in India's previously bellicose stance.
The two sides need to explore ways to avoid confrontation. It would be damaging to both countries and regional stability if India cannot use its reason and wisdom to avoid the military collision both countries are currently on course for.
If two sides can find a way to prevent the already tense situation at the border from getting out of control and end the deadlock peacefully, it would be in the interests of both as well as the region.
However, to work things out through talks requires India to correct its mistake by withdrawing its troops back to its own side of the border.
This, as Wu emphasized on Monday, is the prerequisite for any meaningful discussions to take place.