Sixty-year-old Treaty of Rome still the answer to globalization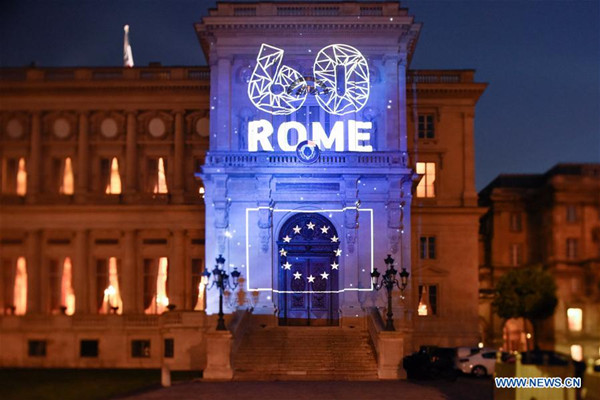 The building of the Ministry of Foreign Affairs of France is partly illuminated during a light show in commemoration of the 60th anniversary of the Treaty of Rome in Paris, France on March 24, 2017. [Photo/Xinhua]
Globalization and trade liberalization are still the guarantee of social stability, economic prosperity and political harmony around the world, said scholars at a Beijing-based seminar that marks the 60th anniversary of Treaty of Rome.
"The spirit of the Treaty is worth inheriting and further advocating," said Professor Liu Yuanchun, who is also the Vice President of Renmin University of China, on Saturday.
The European Union has served as a model of economic, political and security cooperation since the treaty, which symbolized the European integration, was signed in 1957, Liu added.
An open and rules-oriented regional integration is the key, Liu said, but economic recession in recent years has gradually led to a reversal of the original trends as populism and anti- EU sentiment are running high." The Brexit and the US President Donald Trump's 'America First' policy are apt examples."
Globalization has not just optimized the resource allocation but also widened the wealth gap between the haves and havenots, he added.
"The 'anxiety about survival' contributes to the polarized society and public disorder," said Chen Dawei, the Vice President of China-EU Association, and the Former Minister of the Ministry of Housing and Urban-Rural Development.
Chen said an agreement on wealth redistribution should be reached worldwide to safeguard social justice, which plays a major role in containing populism.
China and the EU have reached a consensus to keep advancing globalization based on common interests, although the economic stagnation has led to fierce competitions and trade frictions on both sides.
"Win-win cooperation still sets the tone for China-EU relations," said Ding Chun, Jean Monnet Chair, Director of Center for European Studies, Fudan University.
The conference has gathered scholars at home and abroad to explore the challenges and opportunities of European integration that was held at Renmin University of China on July 15, 2017.
"The answers lie in the 60-year-old Treaty of Rome," Liu said, "President Xi Jinping's proposal to build a community of shared destiny carries a similar connotation."
Yao Yuxin contributes to the story.