Initiative a win-win deal for China and Mongolia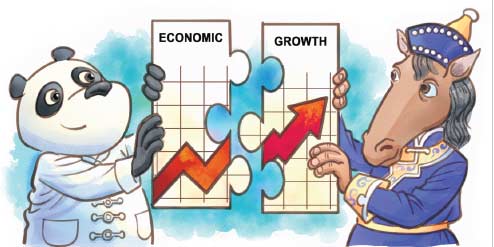 LUO JIE/CHINA DAILY
Khaltmaa Battulga of the Democratic Party was sworn in as the fifth president of Mongolia on July 10 after winning the runoff election with 50.6 percent votes. The 54-year-old business tycoon and former judo champion has vowed to revive Mongolia's flagging economy and pursue equality-based relationships with neighboring Russia and China.
In his inauguration speech, Battulga emphasized that Mongolia should also take measures to strengthen its relations with the "third neighbors"-the United States, Japan, Germany and other countries-beyond its two giant neighbors.
Although some of Battulga's supporters sent out random negative messages about China during the presidential campaign, China-Mongolia cooperation will continue on the basis of mutual benefit.
On July 11, Chinese President Xi Jinping congratulated Battulga for taking the office of Mongolia's president. A day before that, Battulga met with China's ambassador to Mongolia Xing Haiming and exchanged views on China-Mongolia relations and cooperation. Xing said China and Mongolia are friendly neighbors, and Beijing attached great importance to the two countries' ties. Battulga, on his part, said Mongolia and China have always been good neighbors and should enhance the synergy between Mongolia's Development Road strategy and China's Belt and Road Initiative.
The China-led Belt and Road Initiative and Mongolia's Development Road strategy have many common concepts and contents, indicating the two countries have a bright cooperative future. The Belt and Road Initiative aims at sharing resources, technologies and expertise with its neighboring and other countries.
On Sept 11, 2014, Xi proposed the "China-Russia-Mongolia Economic Corridor" and received positive responses from Moscow and Ulaanbaatar. In July 2015, the leaders of the three countries held a meeting in Ufa, Russia, and agreed to dovetail the Silk Road Economic Belt with Russia's "Transcontinental Rail Plan" and Mongolia's "Prairie Road Program" (which became Development Road strategy in 2017), and push forward the construction of the China-proposed trilateral economic corridor.
Mongolia is situated along the Silk Road Economic Belt, the overland route of the Belt and Road Initiative which also comprises the 21st Century Maritime Silk Road, making China-Mongolia cooperation a key part of the implementation of the initiative.
Mongolia proposed the Prairie Road Program in 2014 to connect China and Russia through Mongolia with "five lines"-roads, railway, oil pipelines, gas pipelines and power lines. On May 12 this year, Xi met with Mongolian Prime Minister Jargaltulga Erdenebat at the Belt and Road Forum for International Cooperation in Beijing and said China supported Mongolia's role as a bridge between China and Russia. Therefore, China-Mongolia all-round cooperation will be mutually beneficial.
Another important fact is that China and Mongolia are economically complementary and thus ideal for economic cooperation. China has been Mongolia's largest investment and trading partner for more than a decade. Mongolia mainly exports natural resources, fur and raw materials to China, and imports gas, diesel, food, and machinery and equipment from China.
As a frontier market state, Mongolia is in the initial stage of prospecting natural resources and pursuing industrial development. It therefore needs Chinese investments and technology in the mining industry, which is an important pillar of its economy. The Belt and Road Initiative has brought great opportunities to Mongolia, by helping deepen bilateral cooperation in various fields such as minerals, infrastructure and connectivity. So, it will enjoy greater benefits by participating in the Belt and Road Initiative.
China is also vital to Mongolia's national security in geopolitical terms. Located between Russia and China, having good relationships with its two giant neighbors is Mongolia's top priority. Although Battulga emphasized that Mongolia should also try to strengthen relations with "third neighbors", Mongolia's geopolitical position demands that it maintain friendly ties with Russia and China.
Moreover, no country can develop in isolation in the era of globalization, and Mongolia can benefit from China's robust economic growth by participating in the Belt and Road Initiative. Minerals and infrastructure construction form the backbone of the two countries' economic cooperation today. And there is enough reason for the two sides to deepen cooperation in fields such as e-commerce, and digital economy.
The author is an assistant researcher at the Inner Mongolia Academy of Social Sciences.