India must end standoff for its own good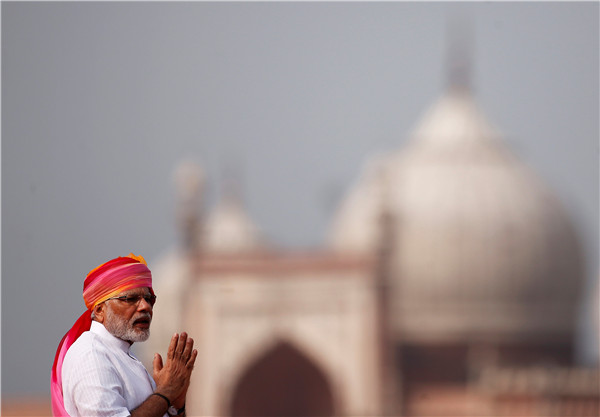 Indian Prime Minister Narendra Modi gestures as he addresses the nation from the historic Red Fort during Independence Day celebrations in Delhi, India, August 15, 2016. [Photo/Agencies]
The dispatching of Chinese troops to a logistics support base in Djibouti on Tuesday, the first of its kind for the People's Liberation Army, to take up international missions such as peacekeeping and humanitarian aid, has been misinterpreted by some Western media outlets as China's efforts to strengthen its presence in the Indian Ocean and therefore challenge India's influence in the region.
The misinterpretation coincides with US Navy commander William D Byrne Jr's remark that the Malabar Naval Exercise-2017 by the United States, Japan and India in the Bay of Bengal, which began on Monday, is aimed at achieving deeper military ties between the three nations and "sending a strategic message to China".
China and India, both important players in many multilateral forums including BRICS and climate change talks, have of late witnessed growing mutual distrust because of the ongoing military standoff between their armies in the Sikkim section of their border. Even after three weeks, the standoff in China's Donglang area continues. And a diplomatic solution is not possible unless India withdraws its trespassing troops from the area, Foreign Ministry spokesman Geng Shuang emphasized on Monday. The Indian troops that illegally entered Donglang are reportedly maintaining "a line of supplies" to dig in for "a long haul".
In the two decades before 2015, China and India had managed to keep their border disputes and trade imbalances at controllable levels while maintaining open dialogue. The change occurred when the Indian economy and relevant reforms started picking up after Narendra Modi was sworn in as India's prime minister three years ago. The ensuing decent growth-7.6 percent between 2014 and 2015 and above 6.5 percent last year-fueled nationalist sentiments among many Indians leading to New Delhi's assertiveness in dealing with countries it has disputes with.
The border dispute between China and India started catching the headlines after 2012, since when more Indian troops and heavy weapons as well as sporadic frictions have been noted near the Line of Actual Control. Apart from accusing Chinese troops of trespassing, which Beijing has time and again denied citing sound evidence, New Delhi allowed the 14th Dalai Lama, the spiritual Tibetan leader who supports "Tibetan independence", to visit Southern Tibet, a historical Chinese territory that has been occupied by India.
Rather than pursuing further progress in border negotiations with China, India made far-fetched connections between the China-Pakistan Economic Corridor, a flagship project of the Belt and Road Initiative, and the India-Pakistan dispute over the sovereignty of Kashmir. In essence, the economic corridor is an extension of China's westbound development initiative that has nothing to do with India's sovereign integrity or core interests.
China's peacekeeping missions near Somali waters and in the Indian Ocean, which are on the rise in the face of increasing security threats, are also a thorn in India's flesh. For years New Delhi has considered the Indian Ocean its backyard, which is why it overacts to Chinese presence in those waters. To counter the so-called China threat and expand its strategic reach in the Pacific Ocean, the Indian Navy has deepened its cooperation with its US and Japanese counterparts through multiple joint drills.
Admittedly, New Delhi's strategic thinking is undergoing drastic changes, and how it will readjust its diplomatic stance also hinges on its non-aligned commitment, public opinion at home and China-US relations.
However, it should be noted that China still values its rising South Asian neighbor as a diplomatic priority, and hopes to reduce strategic misjudgments and border frictions through talks. Some powers are exploiting India for their own benefits by trying to drive a wedge between the two biggest developing countries. It is time for India to show its sincerity in resolving the ongoing standoff for the sake of peace and its own development.
The author is a researcher at the China Institutes of Contemporary International Relations. The article is an excerpt from his speech at a recent seminar hosted by Pangoal Institution, a Beijing-based think tank.