Turkish soccer club paves way for stronger bonds between Turkish and Chinese people
Besiktas players celebrating championship,2017 [Photo / Anadolu Agency]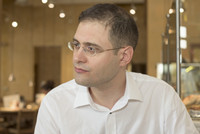 Umut Ergunsu / Photo providede to chinadaily.com.cn
The Belt and Road Initiative aims to promote cooperation among countries with an action plan titled Vision and Actions on Jointly Building Silk Road Economic Belt and 21st-Century Maritime Silk Road which outlines the principles,framework,cooperation priorities and mechanisms. Out of the five cooperation priorities laid out in the Vision and Actions plan,the section on people-to-people bonds is the second longest at 848 Chinese characters, after unimpeded trade. This reflects the importance attached to exchanges between different cultures and interactions between the people of various countries. This is partly because public opinion and interaction between people play an increasingly important role in relations between nations.
Public opinion is one of the major issues for bilateral relations between Turkey and China. The degree of favorability to each other is low mainly because of a huge knowledge gap. Although there are many Turkish business people doing business with their Chinese counterparts,the majority of the Turkish public has limited knowledge about China and Chinese people. That's why the leaders of the two countries have agreed to enrich cultural exchanges between people. One of the three agreements signed between Turkey and China during the Belt and Road International Cooperation Forum, recently held in Beijing, related to culture. This is in line with the Vision and Actions plan which also states that the countries should carry out sports exchanges because sports are considered to be a common language for many people around the world which makes it a perfect tool to consolidate friendships and facilitate cultural transmission.
The most popular sport globally is football with over 3.2 billion people watching the World Cup,according to the International Federation of Association Football (FIFA). Furthermore, FIFA states that there is scientific evidence showing that the earliest form of football, known as Tsu'Chu,was invented in China around the second or third centuries BC.
In today's China, football accounts for three of the top five most popular sports events,according to Nielsen,a global ratings company. This shows that more and more Chinese are getting interested infootball. Consequently,China issued the Medium and Long-Term Plan of Chinese Football Development covering a long-time span of 2016-2050. It outlined a vision for football's progress in China.
Turkey,on the other hand,is a well-established football country and its national team finished third in the FIFA World Cup in 2002. Besiktas Jimnastik Klubu (Besiktas Gymnastic Club) also delivers many players to the Turkish national team. This season,Besiktas clinched its second consecutive Turkish league title and the 15th in its history.
Chinese Ambassador to Turkey Yu Hongyang travelled 450 kilometers from Ankara, Turkey's capital, to Istanbul, Turkey's biggest city, to attend the championship dinner of Besiktas on July 6. Besiktas President Fikret Orman said he was happy to see Ambassador Yu at the championship dinner.
"As a gesture of gratitude, I am looking forward to presenting Ambassador Yu new Besiktas kit that has three stars symbolizing our 15 league titles, since I believe he is becoming a Besiktas supporter paving the way for many other Chinese friends to become fans of our club," Orman said.
Hoping to engage a wave of new fans in China,Besiktas will visit China between 16-20 July and claim the title of the first Turkish football club to visit China. Besiktas executive board member in charge of external affairs and the UEFA,Erdal Torunogullari,shared the clubs plans for China.
"Besiktas is the team which transferred highest number of football players from Turkey to China," He said.
Demba Ba was transferred to Shanghai Shenhua and Ersan Gulumwas transferred to Hebei China Fortune from Besiktas. Ahmet Dursun also played for Tianjin Teda after playing for Besiktas.
"(Besiktas) plans to transfer more players in the coming days." Torunogullari said. "Our purpose visiting China this year is to let our Chinese friends know about the club's star players. We want to participate in a tournament in China every year, share our experience to contribute to football in China. Most importantly, using football as a common language,we hope to contribute in increasing friendly exchanges between Turkish and Chinese people."
During its stay in China,Besiktas will play a match with Schalke 04 at Zhuhai sports arena on July 19 which will give Chinese football lovers the opportunity to watch the Turkish Champion live and probably get interested in Turkey. On the other hand, this match will also turn Turkish people's attention to China. Millions of Turkish football fans will have the rare opportunity to have a taste of China,Chinese football and culture.
Turkish newspapers will publish articles on China's growing interest in football and Turkish TV channels will air programs on Chinese football. These hopefully will deepen the friendship and help bridge the knowledge gap between Turkish and Chinese people. After the successful visit of Besiktas,other Turkish clubs will probably follow the lead of Besiktas and come to the birthplace of the earliest form of football. Therefore,sports,especially football will nurture friendship between the two peoples and make the implementation of the Belt and Road easier.
Umut Ergunsu is a PhD Candidate at the School of International Studies, Peking University.