Long live the taste of spicy crayfish thanks to urbanization wave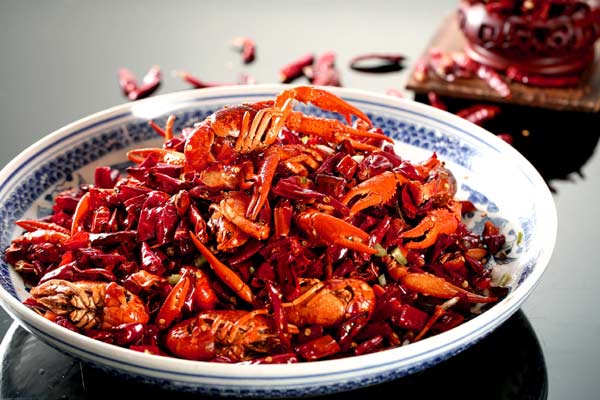 Crayfish star in Guijie food street festival [Photos provided to China Daily]
At the height of summer, no food seems to be hotter than crayfish. The crustaceans, also known as "little lobsters" in China, and crawfish, crawdads, mugbugs or freshwater lobsters in other parts of the world, have a nickname in Chinese, ma xiao (spicy little lobsters) as they are often served in hot and spicy chili sauce.
According to a leading online group-buying and food delivery platform, China's crayfish market is worth more than $20 billion, accounting for about 5 percent of the overall Chinese food service market. And nearly 18,000 restaurants in China focused on serving crayfish as of August 2016, three times the number of KFCs in the country, according to media reports.
Although I have not tasted the popular summer dish for a decade, I think I know why it has become so popular. Like spicy Sichuan cuisine and hotpot, ma xiao is riding the urbanization wave in China.
Believe it or not, I first tasted hotpot when I was in the middle school, that is, the mid-1980s, even though my home province, Sichuan, is considered the birthplace of hotpot in China. The reason: it was difficult to find a hotpot restaurant in my hometown, Sichuan's capital city of Chengdu, because spicy hotpot was still a specialty of Chengdu's brother city, Chongqing, now a municipality.
After visiting Chongqing on a business trip, my father would narrate his experience of having the spicy dish. So one day my mother decided to serve "Chongqing hotpot" at home. Her dish, just meat and vegetables cooked in boiling water and chili sauce in a pot, however, had little similarity with the hotpot served in restaurants today.
My first taste of spicy hotpot in Chengdu was in the 1990s. Now hundreds of hotpot restaurants have mushroomed in the city. In fact, spicy hotpot has become an integral part of the local cuisine.
Toward the end of the 1990s, spicy hotpot restaurants started mushrooming in Beijing, too, thanks in part to migrant workers from Sichuan. Today, Beijing has innumerable hotpot restaurants that serve all kinds of hotpots, from Sichuan to Thai style. Over the past 20 years, the movement of people across the country has fused the tastes and flavors of different regions.
I had not heard of, let alone seen, crayfish until I moved to Beijing in the early 1990s. The crustaceans were introduced to China around 1930 and were mainly found in ponds, lakes and paddy fields in East China. In those days, my roommate and I found in the crayfish a perfect source of protein. On many Friday evenings, we would buy lots of crayfish, which of course cost much less than lobsters, even shrimps, cook them in a steamer, and dip them in a mixture of soy and chili sauce and then enjoy them with cold beer.
Crayfish are chewy but have a strong earthy smell. To kill the smell, you have to use spices with strong flavors, and that's why the chilies. This reminds me of the humble origins of spicy hotpot. Boatmen on the Yangtze River could not afford to buy decent food, so they opted for offal and fish guts, which they cooked in oily and spicy soup, thus giving birth to the hotpot.
Among the country's famous cuisines, spicy Sichuan food is one of the most popular. Hunan, too, is known for its spicy cuisine. And thanks to the popularity of spicy Sichuan cuisine, ma xiao has become a killer in the restaurant business.
My son's nanny, who is from Hebei province, refuses to eat anything spicy. But after working in Tianjin for two years, her daughter has become a fan of spicy food and even cooked fish with pickled cabbage and chili, a classical Sichuan dish, for the family reunion dinner on the last Spring Festival eve. And I won't be surprised if she serves ma xiao at the next family reunion dinner, as I know urbanization can do weird things.
The author is a senior writer with China Daily.
chenliang@chinadaily.com.cn