School's enrollment methods unfair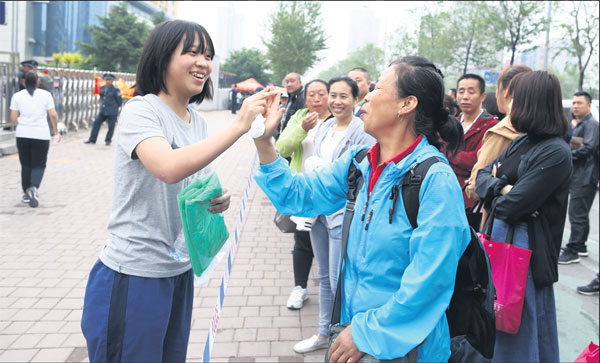 Gaokao kicks off on June 7, and this year around 9.4 million students take the exam. A student from the Changchun Experimental Middle School says goodbye to her mother before attending the exam on the morning of June 7. Photos by Bai Shi / For China Daily
KNOWN FOR ITS SUCCESS IN PREPARING STUDENTS for the national college entrance examinations, or gaokao, Hengshui No 1 High School in North China's Hebei province is being criticized for its policy of seeking out high-performing of students nationwide. The Mirror commented on Saturday:
Apart from its semi-militarized, result-oriented management, the school is often accused of infringing upon educational fairness because of its enrollment efforts nationwide. Thanks to its close ties with deep-pocketed investors and Hengshui High School, an established public school, Hengshui No 1 High School has 18 branches across the country, and its scouts try to find the best students nationwide and enlist as many as they can.
That is why the school has been suspected of "playing both sides" and accused of using the reputation of a well-run public school-even many local residents in Hengshui don't realize they are two different schools-and investors' money to franchise its operations. However, its "public-private" ownership structure, which gives it an unfair advantage in the competition for talented young students, violates the regulation that private schools should be independent legal entities.
Such a controversial recruitment approach should be revised, not least because the school's admission fees are higher than public schools. As a result, those poor students or students who do not perform well have been excluded from this school, which is not just unfair but also detrimental to the development of a well-rounded education system.