Local alcohol ban might be going too far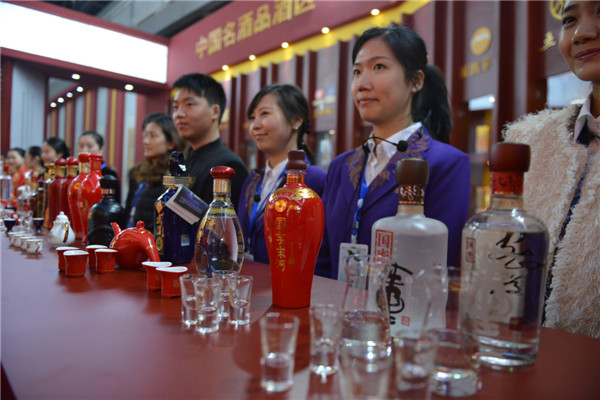 Different brands of baijiu are displayed at the China International Alcoholic Drinks Expo 2014 in Luzhou, Sichuan province, on March 23. Sales of expensive baijiu, which used to be a must for official dining, have been hit hard by a campaign urging officials to cut lavish spending. Provided to China Daily
A PROPOSED BAN on sales of alcohol in Dulongjiang township, Southwest China's Yunnan province, has raised questions over whether such a prohibition is feasible. Southern Metropolis Daily commented on Friday:
The draft of the ban states that all alcoholic drinks, from beer to cider, would be banned indefinitely. Because drunkenness causes great harm to the society, encouraging less consumption of alcohol is no doubt well-intended, but imposing an indiscriminate ban on the consumption of alcohol is going too far.
It is worth noting that most attempts elsewhere to prohibit sales of alcohol have failed. Prohibition in the United States from 1920 to 1933, for instance, not only failed to keep communities safer and alcohol-free, it also created more problems such as the rise of the mafia, bootleggers and rum-runners. The lesson to be drawn from such failed attempts to reduce the consumption of alcohol is that public policies cannot replace personal responsibility.
The Dulongjiang authorities are right to try to reduce the excessive consumption of alcohol, as it is the cause of alcoholism, traffic accidents and domestic violence. But when it comes to the consumption of alcohol, traditions vary from one place to another, and it is important that policymakers do not overstep the boundaries when exercising public power.
Governments at the prefecture and township level are at the forefront of local governance, and they might be tempted to seek once-and-for-all answers to solve the problems caused by excessive alcohol consumption, which is traditionally a lubricant for social interactions in rural areas. In Dulongjiang a partial restriction was introduced in September to prohibit government employees from drinking alcohol during work hours and residents after 10 pm. The local authorities should make sure that ban worked before issuing a new one.