Dispelling uncertainties clouding global trade a great but hard task for G20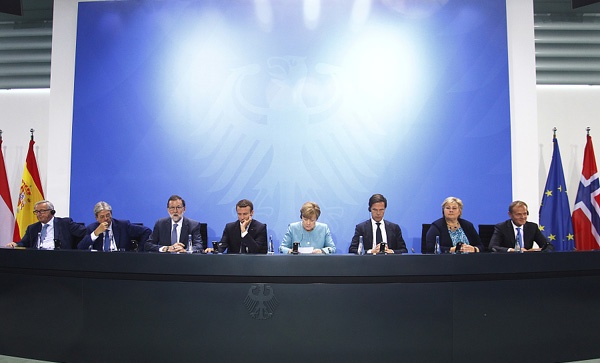 President of the European Commission Jean-Claude Juncker, Italian Prime Minister Paolo Gentiloni, Spain's Prime Minister Mariano Rajoy, French President Emmanuel Macron, German Chancellor Angela Merkel, Netherland's Prime Minister Mark Rutte, Norway's Prime Minister Erna Solberg and President of the European Council Donald Tusk attend a Press conference after a meeting of European Union leaders at the Chancellery on June 29, 2017 in Berlin, Germany. [Photo/VCG]
BEIJING, July 6 (Xinhua) -- As leaders of the Group of 20 (G20) major economies gather in the northern German port city of Hamburg for an annual summit, a great but difficult task they need accomplish there is to dispel uncertainties overcasting future revival of global free trade.
Almost after a decade of weak growth since the 2008 global financial crisis, international trade transactions have somehow begun to see a slight hope of recovery.
The World Trade Organization (WTO) has projected that this year's global trade will grow at 2.4 percent, up from last year's 1.3 percent -- the slowest pace since the outbreak of the crisis.
A large portion of the WTO's cautious optimism comes from a recovering global economy.
The International Monetary Fund has forecast that the global economy is expected to expand at 3.5 percent in 2017. That means all G20 economies, including Russia and Brazil -- countries that reported negative growth in gross domestic product for the past two consecutive years -- will deliver real economic development this year.
Yet it is certainly not a time to let down vigilance, as uncertainties in economic development worldwide and policy making still flutter about. That has made it premature to pronounce the start of a full and sustainable process of recovery.
In the United States, President Donald Trump has time and again flirted with trade protectionist moves since taking office.
He proposed putting "America first," chastised a string of trade agreements as "horrible" deals for U.S. manufacturing industries and vowed repeatedly to renegotiate many of the treaties.
Most recently, the leader in Washington has taken his aim at foreign steel, saying it is "killing" U.S. steelworkers. That has pushed high the prospects that the Trump White House could slap punitive tariffs on foreign firms, and trigger a spike in trade spats between the United States and its trading partners, including traditional allies in Europe.
In Europe, the Brexit talks that are underway are no doubt another big source of worries for global trade.
British Prime Minister Theresa May is known for her persistent stance for a hard Brexit. Yet, her Pyrrhic victory in June's snap elections has weakened her position in the talks with the European Union (EU), and rendered the future of the negotiations utterly undetectable.
Yet, whatever the outcome -- hard Brexit, soft one, or even no deal at all -- the two sides need to try their best to calm the water as much as possible so that the waves might not rock the ship of international trade too wildly.
Few would disagree that free and fair trade running on the track of commonly recognized rules benefits all. That is how global trade over the past few decades has helped promote economic development globally by boosting the exchanges of people, goods and services worldwide, and improving living standards at relatively low cost.
Because of international trade and globalization, the level of interdependence among different countries and regions are simply unprecedented high at this moment, and is still going up. The old and isolated age when my loss is your gain has already come to an end.
At the upcoming G20 summit, world leaders need to deliver a definitive declaration that rejects protectionism, upholds the spirit of openness and stresses negotiation in solving disputes instead of threatening each other with punitive sanctions.
Ultimately, promoting global free trade is more of a destined future than a choice of among various options in this interconnected and interdependent world, and the only way to ensure everyone's best interests is to expand global commerce, and make it even freer and fairer.