Shot in the arm for e-commerce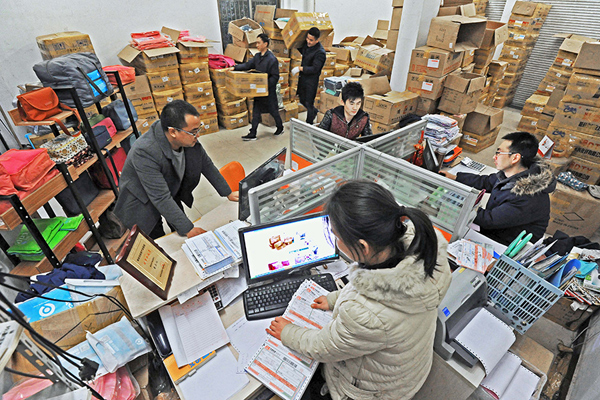 Employees of an online store process orders in Qingyanliu village, East China's Zhejiang province on Dec 29, 2015. [Photo/Xinhua]
The annual taxable revenue threshold for businesses will be raised from previous 300,000 yuan ($43,895) to 500,000 yuan from July 1.
Businesses whose taxable revenue is below this threshold will enjoy a 20 percent tax discount, according to a decision made by the State Council, China's Cabinet, in late April.
The April decision, which included a series of major tax incentives, came after numerous measures to cut the tax burden on smaller companies were adopted in the first quarter.
The benefit small and micro enterprises will gain from these preferential tax policies may not be that big, but the tax incentives will be of great importance to the development of such enterprises as a whole. Due to their meager profits and lack of experience, especially in their early stages, any tax cuts will provide a boost to the growth and development of smaller companies.
Given the booming development of e-commerce in China in recent years, the preferential tax policies will effectively lighten the tax burden on the numerous small e-tailers and providers of e-services. Under the government campaign for mass entrepreneurship and innovation, the emergence of these small e-commerce companies has given a huge impetus to China's economic transformation and sustainable growth. However, these small businesses have been under taxation pressure and this explains why Jack Ma, founder of the internet giant Alibaba, has been calling for preferential tax policies to support them. A tax environment that gives them more room to grow will not only facilitate the rise of small e-businesses with greater development potential, but will also create a platform for the development of enterprises in the real economy as well.
Big players such as Alibaba alone are not enough to bolster China's booming new economy. The preferential tax policies already adopted and due to be adopted will help China create a favorable business environment for the growth of more Alibabas.
-Southern Metropolis Daily