Lack of professional sports setup root cause of stars' pay disputes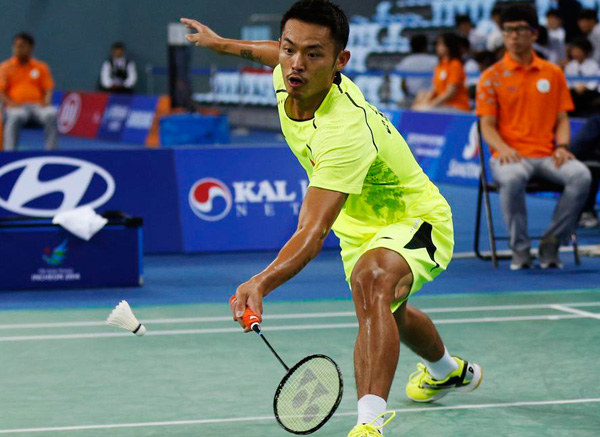 Lin Dan returns a shot by South Korea's Lee Dongkeun (not pictured) during the men's singles badminton match in the Gyeyang Gymnasium at the 17th Asian Games in Incheon, Sept 25, 2014. [Photo/Agencies]
LIN DAN, the Chinese badminton superstar and two-time Olympic champion, has accused his Super League club, which ranked seventh in the eight-team league in the 2016-17 season, of failing to pay him and six other teammates. Beijing News commented on Thursday:
Hailed by some as the all-time best badminton player, the 33-year-old told his 3.6 million followers of his micro blog that he was "utterly disappointed" and considering taking legal action against the Guangzhou Yueyu badminton club.
According to Lin's contract with the club, he was supposed to receive 4 million yuan ($581,000) for the season, which ended in February. The Guangzhou club's overdue payment did not come to light until Lin posted his complaint, which stressed that the whole team had worked hard to keep the club from relegation despite not getting paid. His head coach said the club did not pay the coaching staff and its other Chinese players either.
Lin is not the only sportsperson to go public about not being paid. Other renowned athletes have also resorted to public exposure to try and get their overdue pay. Their celebrity status may help solicit attention, but there is no guarantee that it will help them get the money they are owed.
The root cause of the problem is the insufficient professionalization of sports in China. Ostensibly, the Chinese soccer and badminton leagues have all it takes to appear professional and modern-clubs, sports associations, and a set of rules on deposit management and transfer of players-but many "top designs" are yet to be fully realized.
For instance, unlike their counterparts in mature soccer leagues such as the German Bundesliga, Chinese soccer players, if denied compensation, have to fight on their own, such as by going on strike. The lack of legal assistance and counseling they receive makes it even harder for them to demand unpaid salary.
Hopefully Lin's anger could help expedite a reform of Chinese sports to make them more professional.