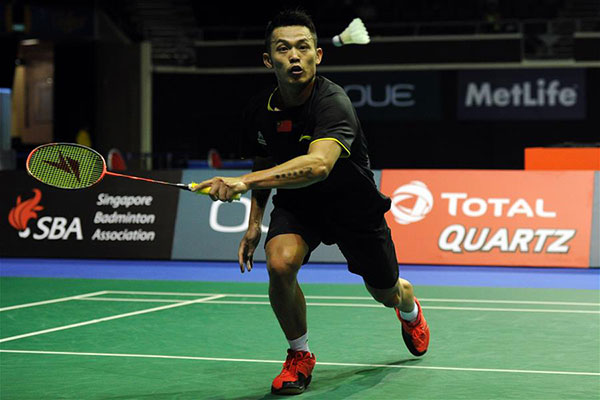 Lin Dan of China competes during the men's singles semi-final match against Sony Dwi Kuncoro of Indonesia at the OUE Singapore Open in Singapore Indoor Stadium, April 16, 2016. Lin Dan lost 1-2. [Photo/Xinhua]
SINGAPORE - Chinese shuttler, two-time Olympic winner Lin Dan was beaten by world No. 56 Sony Kuncoro from Indonesia in the men's singles semifinals at the Singapore Open on Saturday.
Quick out of the blocks, Kuncoro raced to a 21-10 victory in the first game. Lin then dug deep to take the second game at 21-17 and the tie went into a tiebreaker, before Kuncoro found enough in his depleting tank to edge out Lin 22-20.
"It's been a while since I last won. I think this win really means plenty to me," admitted Kuncoro. "I'm very happy today because it was such an awesome game. The scores in the first set were pretty far apart, so when it got closer in the next two sets, I just concentrated on the game to get one point at a time."
Lin admitted that he didn't play well in the game and his rival was in a better condition than himself.
Kuncoro will be up against South Korea's world No. 10 Son Wan Ho, as the latter booked a place in the final following a straight set 22-20, 21-16 victory over Angus Ng Ka Long of Hong Kong, China.
In the women's singles semifinals against Japan's Akane Yamaguchi, who a day earlier knocked out world No. 1 Carolina Marin, Thailand shuttler Ratchanok cruised to a 21-12 victory in the first game. Yamaguchi then mustered her best efforts in the second game, but ultimately, it proved to be futile as Ratchanok edged it 22-20 to advance to the final.
"I had sufficient preparation for today as I knew she beat Marin yesterday," said Ratchanok. "She was able to come back even though I was leading at times. I needed to control myself and try to minimize any mistakes because the points I gave away were mistakes near the net."
Ratchanok's final rival will be defending champion Sun Yu from China, who cruised to a 21-10, 21-16 victory over compatriot He Bingjiao.
"I'm looking forward to the final tomorrow to show what I've got. To me, whether I win or lose isn't important. I think what's important is to do my best and give all I've got."
In the men's doubles, South Korea's world No. 1 pair Lee Yong Dae and Yoo Yeon Seong were upset by fourth-seeded Fu Haifeng and Zhang Nan of China at 21-16, 23-21. Fu and Zhang set up a final showdown with Japan's Takeshi Kamura and Keigo Sonoda who toiled hard against China's Li Junhui and Liu Yuchen in a 21-16, 21-17 victory.
The mixed doubles final will be attended by China's Xu Chen and Ma Jin, who saw off compatriots Wang Yilyu and Chen Qingchen 21-13, 23-21, and South Korea's Ko Sung Hyun and Kim Ha Na, who knocked out Indonesia's Tontowi Ahmad and Liliyana Natsir at 21-14, 21-16.
In the women's doubles semi-finals, Indonesia's Nitya Krishinda Maheswari and Greysia Polii triumphed 21-18, 21-13 over South Korea's Jung Kyung Eun and Shin Seung Chan to secure a berth in the final.
They will be against Misaki Matsumoto and Ayaka Takahashi as the Japanese pair edged China's Tian Qing and Zhao Yunlei 21-17, 20-22 and 21-16.