Initiative provides a platform that all may benefit from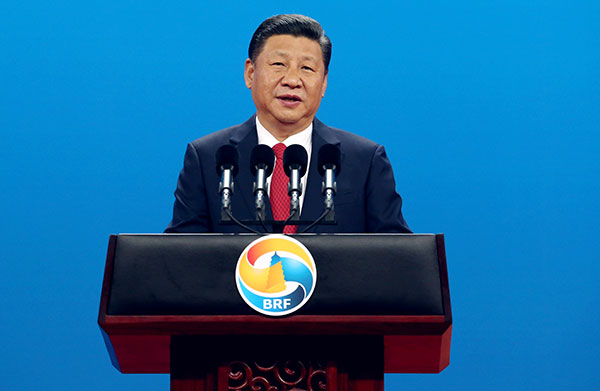 President Xi Jinping delivers a keynote speech at the opening ceremony of the Belt and Road Forum for International Cooperation in the National Convention Center in Beijing on May 14, 2017. [Wu Zhiyi/China Daily]
It seems suspicion is unavoidable for China: One moment it was accused of being a "free-rider" for allegedly doing too little; another moment it is being suspected, by the same people, of harboring ulterior motives for trying to fulfill what is expected of it as a "responsible power".
President Xi Jinping's keynote speech at the opening of the Belt and Road Forum for International Cooperation, the most comprehensive elaboration of China's Belt and Road Initiative so far, answered many questions, including those about its intentions.
As was evident through Xi's remarks, the initiative is fundamentally different from the 1940s' Marshall Plan or the European Recovery Program, or today's Trans-Pacific Partnership agreement-indeed any recent regional development projects. It is distinctive in that, unlike most similar designs for cooperation, it has never been intended to be "members only".
Although the original idea was conceived with countries along an overland Silk Road Economic Belt and ocean-linked 21st Century Maritime Silk Road in mind, the Belt and Road Initiative, as they are now collectively known, is an open platform of cooperation that every country is welcome to join and benefit from, as Xi stated on Sunday.
If the thinking behind similar initiatives has been prone to being preoccupied with the concept of dominance, Xi stated in explicit terms that China is committed to building partnerships.
Expounding the Chinese vision of modern day Silk Roads of peace, prosperity, openness, innovation and harmony among civilizations, Xi again underlined the Chinese aspiration for a "new-type" of international relations, based on and driven by a spirit of sharing, or in his own words a "community of shared interests".
To those concerned about a hidden Chinese agenda to fill the "power vacuum" the US administration of Donald Trump is allegedly leaving behind, Xi assured his audience the initiative is not meant to "reinvent the wheel", and instead focuses on dovetailing with the development strategies of different countries.
For some of different political persuasions, the blueprint Beijing has displayed may look too good to be true. But even from a very short-term, pragmatic perspective, it is worth embracing, for collective efforts are necessary to sustain growth and ensure no one is left behind, and as United Nations Secretary-General António Guterres has observed, the initiative can facilitate "more balanced, inclusive and harmonious development".
Its emphasis on infrastructure connectivity alone may go a long way toward balancing the global economic landscape.
That the forum has convened decision-makers from dozens of countries is a telling vote of confidence in the initiative as a way to pursue "interconnected development and deliver benefits to all".