Xi vows Belt, Road support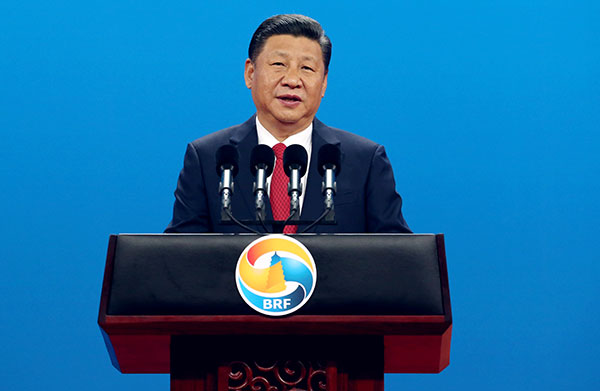 President Xi Jinping delivers a keynote speech at the opening ceremony of the Belt and Road Forum for International Cooperation in the National Convention Center in Beijing on May 14, 2017. [Wu Zhiyi/China Daily]
In opening ceremony, president provides global vision for improvements to nations participating in initiative
President Xi Jinping pledged on Sunday to boost financial support for the ambitious Belt and Road Initiative amid China's substantial efforts to transfer the visionary initiative into practical projects.
China will contribute an additional 100 billion yuan ($14.49 billion) to the Silk Road Fund, Xi said in his keynote speech at the opening ceremony of the two-day Belt and Road Forum for International Cooperation in Beijing.
The Silk Road Fund, founded in November 2014 with the country's initial contribution of $40 billion, aims to boost infrastructure and improve financial cooperation along the centuries-old Silk Road trading routes.
"The China Development Bank and the Export-Import Bank of China will set up special lending plans respectively worth 250 billion yuan and 130 billion yuan to support Belt and Road cooperation on infrastructure, industrial capacity and financing," Xi told more than 1,500 people in the audience at the China National Convention Center in Beijing Olympic Park.
The forum is the highest-level meeting on the Belt and Road Initiative since it was put forward by Xi in 2013. Twenty-nine foreign heads of state and government leaders are attending the forum. Other delegates include officials, entrepreneurs and journalists from over 130 countries.
Russian President Vladimir Putin, Turkish President Recep Tayyip Erdogan and United Nations Secretary-General Antonio Guterres also spoke at the ceremony.
During the forum, China will sign business and trade cooperation agreements with over 30 countries and enter into consultation on free trade agreements with relevant countries.
In his speech, Xi announced China would provide assistance worth 60 billion yuan in the coming three years to developing countries and global organizations participating in the Belt and Road Initiative to launch more projects to improve people's well-being.
The president also unveiled a number of other substantial aid and assistance programs, such as food aid worth 2 billion yuan to developing countries participating in the initiative, 100 "happy home" projects, 100 poverty alleviation projects and 100 healthcare and rehabilitation projects, also among countries taking part in the initiative.
"In pursuing the Belt and Road Initiative, we should focus on the fundamental issue of development, release the growth potential of various countries and achieve economic integration and interconnected development and deliver benefits to all," Xi said.
The Belt and Road Initiative, consisting of the Silk Road Economic Belt and the 21st Century Maritime Silk Road, was proposed by Xi to boost interconnectivity and free trade between Asia and the rest of the world.
The trade volume between China and other Belt and Road countries from 2014 to 2016 exceeded $3 trillion, and China's investment in these countries has surpassed $50 billion.
Stressing infrastructure connectivity, Xi called for promoting land, maritime, air and cyberspace connectivity, focusing on key passageways, cities and projects and connecting networks of highways, railways and seaports.