CTG plans to invest $6b in Belt & Road economies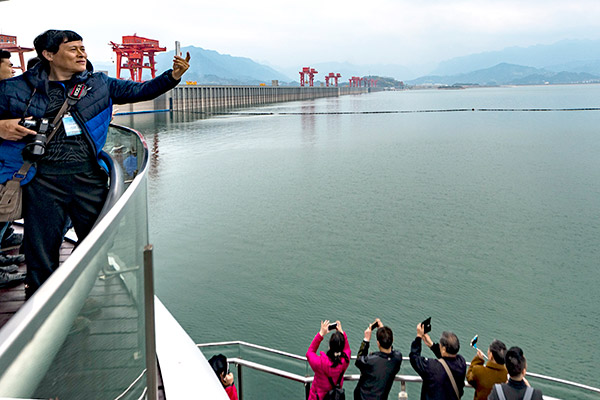 Visitors take photos of the Three Gorges Dam on the Yangtze River in Yichang, Hubei province. [Photo/China Daily]
Company's activities involve more than 5 million kilowatts of installed capacity
China Three Gorges Corporation, builder and operator of the world's biggest hydroelectric power project - the Three Gorges Dam - has vowed to increase energy supplies to economies related to the Belt and Road Initiative.
CTG said it plans to invest $6 billion in countries and regions participating in the initiative in the next five years, involving more than 5 million kilowatts of new installed capacity, according to Wang Shaofeng, executive vice-president of China Three Gorges International Corporation, the overseas unit of the corporation.
Wang said the past few years had witnessed rapid development of the group, when it transformed from a novice into a leader and industry pioneer with business in Europe, South America and Southeast Asia.
"Profit from the international business reached 5 billion yuan ($724 million) in 2016," Wang said.
"The Belt and Road Initiative has provided numerous opportunities for the corporation, including the China-Pakistan Economic Corridor," he added.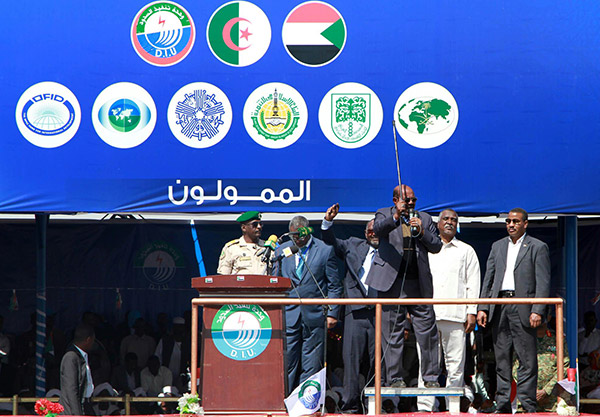 Sudanese President Omar al-Bashir (front) speaks at the completion ceremony of the Atbara hydropower project in Sudan. CTG is part of the consortium contractor of this project. [Photo/Xinhua]
Wang said that despite the strict monitoring of environmental protection and construction, he was confident the key Karot hydropower project in Pakistan would go into operation in 2020.
The project - China's first overseas hydropower program to use its own technology and standards - began construction in April 2015 and when completed will cost an estimated $1.74 billion.
"Located at an intersection of the Belt and Road Initiative, Pakistan is one of the most important investment markets for CTG," said Zhang Hongxun, director of the operation and management department at China Three Gorges International Corp.
The China-Pakistan Economic Corridor is a the symbol of the regional economic development between China and Pakistan.
An analyst said China is a world leader in terms of hydroelectricity exploitation and Pakistan is rich in hydropower resources.
"Because of limited capital, its resources have not been fully developed," said Zhang Boting, a senior analyst at the China Society for Hydropower Engineering.
"The cooperation between CTG and Pakistan is going to benefit both sides."
During its five-year construction period, the Karot hydropower project will pay $23 million in taxes to the Pakistani government. At the peak of construction, it will hire more than 2,000 local workers, greatly improving the labor market there.
CTG said it was also striving to strengthen connections with international financing institutions, to support its hydropower projects in Pakistan.
It invited International Finance Corporation and the Silk Road Fund to take equity stakes, to further promote hydropower development in South Asia.