Biggest oil producer expands ties with China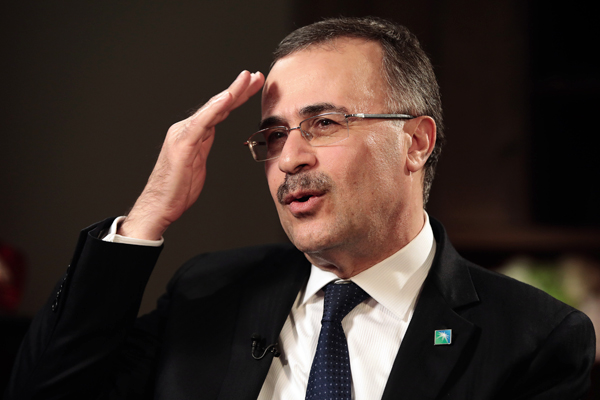 Amin Nasser, president and chief executive officer of Saudi Aramco. BLOOMBERG VIA GETTY IMAGES
Saudi Aramco chief says new deals and joint ventures could be in the pipeline
Having served more than three decades at the world's biggest oil producer, few know better than Amin Nasser about Saudi Arabian Oil Company, also known as Saudi Aramco.
Nasser, with a strong background in petroleum engineering and upstream operations, is detailed in his explanation and presents information cogently.
He has a lifelong affinity to the energy industry and is a strong believer in insightful and thorough long-term strategies.
"Our investment always takes a long-term view," Nasser said. "That has helped Saudi Aramco to be a stable and a reliable supplier of energy," he said in an interview with China Daily.
At the helm of Saudi Aramco, Nasser has dedicated his energies to backing technological innovation with long-term investment, and preparing his company's planned public listing in 2018.
In China, the company is pressing ahead, looking for local partners to establish joint ventures in downstream-integrated refining, chemicals, retail and distribution.
Nasser said the company's investments are geared for the long-term in China's downstream sector. That's because it is not only trying to match such businesses with its export volumes of oil to the market place, but has a holistic approach incorporating R&D and innovative technologies that benefits the environment.
Recently, Amin Nasser shared his perspectives on Saudi Aramco's strategies, prospects and business opportunities in China. The following are edited excerpts of the interview:
What business opportunities do you see as China promotes the Belt and Road Initiative?
There are many opportunities, I believe, for Chinese companies and Saudi companies to partner in different areas. Bilateral relations are very strong between Saudi Arabia and China and some of the opportunities in the Kingdom are in the construction and infrastructure industries.
For example, we expect to attract more Chinese companies to invest in Jazan Economic City, in the Jazan Province of the Kingdom. It's positioned to be an excellent hub for trade with the North African region as well as with Europe. It ties in very well with the Belt and Road Initiative.
What are the focus areas for the company?
Saudi Aramco will continue to invest in the long term. We have a program to maintain our maximum sustained capacity of 12 million barrels a day by continuing to invest in exploration and to offset any decline in our resource base.
In gas, we currently have a program to almost double production to 23 billion barrels of oil equivalent by 2030 and in chemicals, we are working on building up the portfolio and we plan to increase fourfold from more than 10 million metric tons currently by 2050.
Have you set any goals for Aramco China in terms of business segments this year?
We continue to identify opportunities for growth, and at the same time we are working to expand across the integrated downstream value chain. Of course that starts with crude oil shipments from Saudi Arabia to China, which are currently at about 15 percent of China's total imports of crude oil, and I believe any new investments we will make will see an increase in those numbers.
What are Aramco's strengths in the current business environment?
Saudi Aramco's major strength is that we have one of the lowest cost structures, thanks to our geology, technology and operational efficiency. At the same time, our investments are always based on a long-term horizon.
We are cognizant to market cycles but even during a down cycle like in 2015 and 2016, Saudi Aramco's investment program was one of the biggest in the history of the company. It shows that during these cycles, our investment takes into consideration the long-term view and in expanding our integrated portfolio.
What's your perspective on the exploration of shale? Do you see blue skies or dark clouds ahead?
I am an optimist by nature and see opportunities even during turbulent times. Industry downturns are not new to us and we emphasize continually on building our capabilities and resilience to overcome challenging market conditions.
It's not surprising that shale will come back and rig counts will increase because of additional demand from shale producers.
But there are still challenges for producers, be they conventional or unconventional and that is why resilience through operational and capital efficiencies is crucial to overcome those challenges.
Can you speak about your plans for R&D and technology investments?
Three years ago we started to expand our technology portfolio. We have 11 technology centers in Saudi Arabia and across the globe, including three in the US, one in France, one in South Korea, one in the Netherlands, and one in China for research and development. All of these centers work closely with Saudi Aramco's headquarters in Dhahran.
Technology is a focus area, not only in the Kingdom but also out of Kingdom-for Saudi Aramco to leverage our competitive strengths with world-class institutions and organizations to enable or create breakthrough technologies in various areas. For example, our technology center in France is focused on the auto industry, targeting fuel innovation, engine performance and efficiency. (In China) we have an upstream research center, aiming to raise productivity and efficiency of our fields.
What did you discuss with Chinese officials? What's your plan in China?
During our visit to China in March, we signed a memorandum of understanding with Beijing-based China North Industries Group Corp for cooperation in refining venture. And in another MOU, we collaborate with equipment supplier Aerosun Corp from Nanjing, to manufacture reinforced thermoplastic pipes, which are commonly used for cable protection and liquid and natural gas transportation.
I also met company executives of China Petroleum and Chemical Corp and China National Petroleum Corporation to identify further downstream opportunities and we aim to establish new joint ventures in China.
Saudi Aramco is reportedly being planning to go public in 2018. How is it going?
It is progressing smoothly and as planned. More details will be disclosed in the coming months since the process of the IPO is under way.
How do you describe your leadership style?
A person's leadership style is usually reflected by the performance of a company. I believe the true measure of leadership is based on results, growth, opportunities and the success of a company.
Development is key for us at this stage, as Saudi Aramco is moving at a rapid pace and we're striving to grow even bigger. We will continue to make sure that we're developing our people and to continue to build up from our low-cost structure.