MAN revs up its presence in key market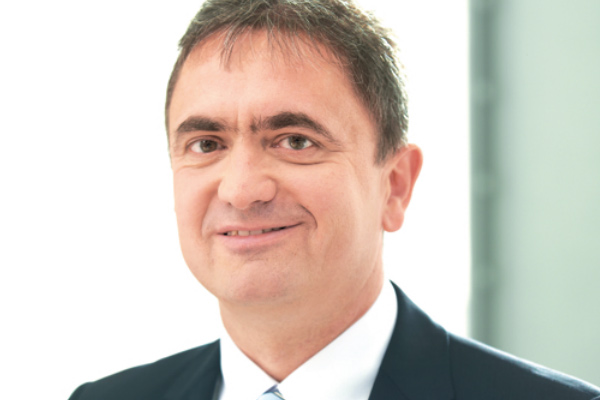 Uwe Lauber, CEO of MAN Diesel& Turbo SE.
Uwe Lauber said he's almost become half Chinese after countless visits to China. The CEO of MAN Diesel & Turbo, Lauber said that extremely heavy program of trips is because China is MAN's biggest and most important market.
MAN Diesel & Turbo's history in China can be traced back 120 years ago-and the nation's shipping industry has closely been associated with the brand over the past four decades.
More than half of world trade is moved by MAN Diesel & Turbo engines, and all those used in China are 100 percent locally made and licensed by MAN.
Lauber said he believed it is important to bring the technology here to help Chinese manufacturers produce faster. He said MAN is 100 percent committed to supporting local manufacturing and China is becoming the center of global trade and the shipping industry.
Calling MAN a partner of Chinese industry, Lauber said his company was making efforts to become the driving force for the whole economy through its knowledge and its engines.
Uwe Lauber recently talked with China Daily about MAN Diesel & Turbo's operations and business prospects in China. Here are edited excerpts from the interview:
What's your mission for your latest China trip?
My calendar on this China trip is fully booked. My mission is to be as close as possible to our clients, listen to our clients and reflect their needs and contribute to their success. I will also visit our Changzhou facility, which is one of our biggest in China.
It's been a year since MAN Diesel & Turbo's bonded warehouse and workshop was officially launched. How has it gone?
Our warehouse and workshop are inside a two-storey building, located in the Free Trade Zone area in Yangshan, about 30 minutes by car from Yangshan Port.
Wholly owned by MAN Diesel & Turbo, the bonded warehouse allows smoother clearance for our customers. It saves time, and also money for our customers.
The bonded workshop provides repairs and reconditioning services. When vessels call at Yangshan Port, we are able to go onboard the vessels, quickly change, repair or recondition the components.
In the past, when the parts were broken we had to produce the components first and send them wherever the ship was, which is quite different from what we are doing now.
What opportunities does MAN Diesel & Turbo see from Made in China 2025 and the Belt and Road Initiative?
There are two mega trends supporting our global strategy: de-carbonization and digitalization. These two mega trends are also very important to China. These are the drivers for new business models.
De-carbonization means we will replace fuel with LNG for instance and we support the Chinese government's initiative to reduce CO2 emissions.
It is really important that we consider ourselves a partner of industry, not as a supplier or sub supplier, but rather as part of one team. These two mega trends are embedded into our company's strategy, to fully support Chinese government initiatives.
MAN fully supports the gas initiative which China is driving. As for Green Growth, we are also fully in line with China. We have to live today but we also have to think about our children and grandchildren. This is our obligation. With our technology and products and with trends towards LNG and gas, we can support these initiatives.
What's your biggest achievement in China so far? What's your market share in the low-speed diesel engine industry?
MAN has been doing business in China since 1898. Engines and marine systems, turbo machinery and power plants are the three pillars of our business.
China is the most important market. Ships are being built predominantly in China, South Korea and Japan. These are the three big players. But doing business with China is most important because most of the container vessels are being built in China, so that's why we are very strong in our relationship with China.
We transfer technology to China. It's very important that our engines are built locally. Last year, we had a more than 80 percent market share for large container vessels and tankers in the global market, while our engines are Chinese products, 100 percent locally made.
Our business model is based on licensees. We send drawings to Chinese local builders, and they produce engines.
Apart from doing business locally, we also support Chinese customers in their business. This is reflected in the fact that we have set up a training academy in Shanghai to train people locally. Our philosophy is to bring the know-how to where the know-how is needed. We have 600 local employees here to support our Chinese businesses.
How much does China contribute to your global business? How did the China market perform in 2016?
Between 12 and 15 percent of our annual revenue comes from China. Last year, the industry was in a downturn, but generally we look positively to the future. China has huge potential and we are used to coping with upswings and downswings.
As part of the (Chinese industry) team, we will get even closer to our licensees, to make our engines even more efficient, teaming up with them to overcome the challenges.
What's the greatest challenge you have encountered since taking over as CEO?
The greatest challenge is adapting to market conditions. Currently, the marine industry and turbo machinery business are going through difficult times.
We constantly need to identify and invest in new areas for growth, such as de-carbonization and digitalization. New technologies must always be invested in and we have a lot of R&D plans in the pipeline. Executing these strategies and future programs is a challenge.
How did you reach your current position and what is the secret of your success?
Innovation. As an engineer, I love to design new technologies, new engines, which helps provide benefits for the customer. Innovation is the key driver and looking at MAN, with leading technologies spanning more than 250 years, this is very important for our company. Technological innovation drives business success.
Second, it's the team. It's not my success. Third, once we have consensus, we execute. I think this is also very important in a lot of organizations. Sometimes there are a lot of debates, but no outcome, no execution. So you have to have the right team, find a consensus, and then execute the strategy.
What are your hobbies? How do the hobbies influence your personality and management style?
I was born in the southern part of Germany, in a mountainous region known as the Black Forest. So climbing mountains and skiing are what I do quite often. And in summer, I do a lot of jogging. Sports activities are very important for me to keep healthy. Work-life balance is also important.
What is your life/business philosophy?
My business philosophy is teamwork. It's not me, it's the team. You need the right people to realize a business strategy.
What kind of "green" lifestyle do you have?
I'm trying to avoid using elevators. Sometimes in China it is difficult if you have your room on the 20th or 30th floor!