Have holiday, will travel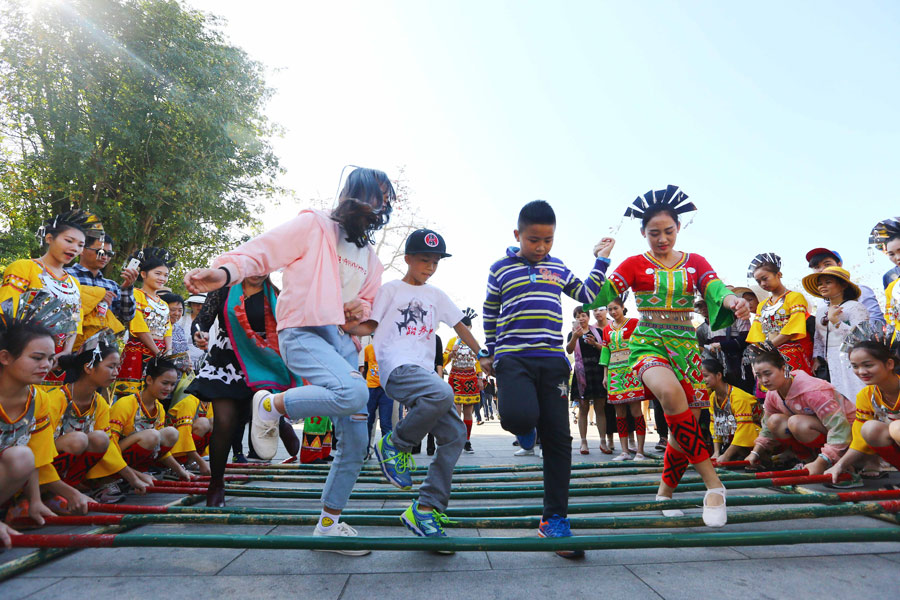 A mother and her two children join a local performer in a traditional bamboo dance at a temple fair during the Spring Festival in Sanya, Hainan province. [Photo/Xinhua]
Wanderlust-driven Chinese tourists have taken a shine to Eastern European countries like the Czech Republic, Hungary and Poland, and are heading there for the April 29-May 1 May Day holiday.
Many of them are adding their annual leave to the holiday for an extended overseas vacation.
According to Beijing Utour International Travel Service Co, a major outbound travel operator in China, the number of groups going to Eastern European destinations this holiday is expected to be around 60, four times that of last year. Typically, each group comprises 200 tourists on average.
The surge is in line with a recent trend. Even last year's figure was 300 percent that of 2015.
"This year we hope the Eastern European business will grow more than 200 percent," said Chen Binchao, product manager at Utour.
"Chinese travelers who have been to Western Europe two or three times already are trying to explore something new. With a naturally romantic air, Eastern European countries are most appealing in the seasons of spring and autumn," she said.
Chen said their travel packages are priced between 10,000 yuan ($1,452) and 30,000 yuan. A typical trip lasts about 10 days.
According to LY.com, a Suzhou-based online travel agency, nearly 20 percent of prospective travelers said in a survey that they plan to travel overseas during the extended May Day holiday.
LY.com's survey report suggests that more than 60 percent of travelers plan in such a way that their overseas trips last between six and 10 days. About 24 percent stay more than 10 days overseas, and about 15 percent choose a shorter trip that may last up to six days.
Those who cannot afford a trip to Eastern Europe or prefer to travel in Asia are choosing islands, including those in Thailand. For example, Phuket in Thailand is the top destination for Chinese people travel independently, followed by China's Hong Kong, Singapore, Japan and the Maldives.
Coastal and inland Asian cities such as Osaka, Chiangmai, Okinawa and Sabah are also popular.
An increasing number of young Chinese travelers are keen to experience Universal parks in Japan and Singapore. Children prefer to visit Disney Parks in Tokyo and the night zoo in Singapore, where adult travelers like to visit Gardens By the Bay.
Ctrip statistics show outbound Chinese travelers prefer to stay in highly rated hotels, with about 71 percent staying in four- or five-star hotels and 22 percent in three-star hotels.
Nearly half of the surveyed by LY.com hoped to travel long distance within China, with about 20 percent eyeing places nearby, in second- and third-tier cities.
According to Ctrip, one- or two-day trips to neighborhood tourist attractions are most popular during the three-day holiday. More than half of those surveyed said they will travel for sure; and about 40 percent settled for such short trips.
Sanya, Xiamen, Guilin and Beijing are primary destinations for domestic tourists.
Independent travelers going to Guangzhou have increased more than 300 percent and those to Beijing have gone up 162 percent, according to Ctrip.com.
The number of tourists going to Sanya, Xi'an and Hangzhou has doubled from that of last year's May Day holiday.
Tourist sites around Hangzhou, Chengdu, Suzhou, Qingdao, Xiamen and Zhuhai are among travelers' favorite destinations for the May Day holiday.
Accordingly, hotel reservations for the April 28-May 2 period have surged in second- and third-tier cities. "They have created huge demand, a new record for two years," Ctrip said in a note.
The number of tourists to Qingdao city, Shandong province, East China, has grown the fastest, with reservations up 1.77 times that of the same period last year. This means, the number of visitors to Qingdao will likely grow between 2.5 and 3 times this holday, Ctrip said in its report.
For the Pearl River Delta area, the Shanghai Disney Resort has become one of the most popular destinations, followed closely by the Palace Museum in Beijing, and Guangzhou Chimelong Tourist Resort, according to a report released by Ctrip. Theme parks have seen a surge in advance bookings.
More than half of those scheduled to visit the Shanghai Disney Resort this holiday would do so with family members. Of them, about 15 percent will travel with two children. Those aged between 26 and 35 form the majority of those visiting theme parks.
Local parks complete with tourist boats and exhibitions have also seen a holiday-related rise in advance bookings in recent times. For instance, ticket sales at the Gucun Park in Shanghai rose more than 650 percent during the Tomb Sweeping Festival in April.
Natural wonders such as the Yellow Mountain, Wuyi Mountain and Putuo Mountain are among the preferred destinations. Among historical sites, Wuzhen and Xi'an (of terracotta warriors fame) are top attractions for tourists aged between 36 and 45.