Only genuine scenic spots should be put in place in grading system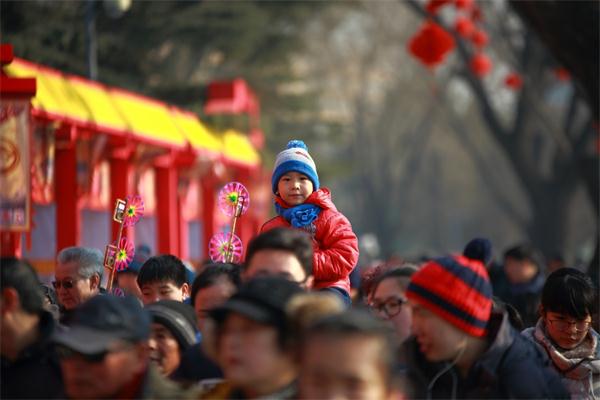 A child stands out from the crowd at a temple fair in Beijing on Feb 1, the fifth day of the Chinese Lunar New Year. [Photo/VCG]
ACCORDING TO A REPORT by Xinhua News Agency the number of 4A scenic spots in the country increased from 187 in 2001 to over 2,800 in 2016, and some places graded 4A, the second highest grade, are not scenic spots at all. Beijing News comments:
The Xinhua news report listed an absurd example. Despite being a shopping mall, Luosiwan International Trade City in Kunming, capital of Southwest China's Yunnan province, is graded 4A.
Some argue that the shopping mall also attracts tourists, but that's not the case. Many places can be visited by tourists, but by scenic spots we mean those places with special natural or cultural attractions. The grading system is designed for such scenic sites, not malls and other commercial places. Therefore it is wrong to grade the Luosiwan International Trade City as a 4A scenic spot.
Another controversial example cited in the Xinhua news report is Longquan Shengjing Tourism Zone, located in Qingyang county, East China's Anhui province. Some claim that it is a cemetery and only a few tourists visit it, but it is still graded as a 4A scenic site.
In this case, it should be emphasized that a cemetery can well be a good scenic site. Many cemeteries and memorial parks in developed countries are famous tourist attractions because they offer good sightseeing experiences.
Therefore, at least two measures must be taken to improve the grading system. First, curb the rampancy of bestowing 4A grades, and introduce a system to degrade those places that do not deserve to be graded 4A. Those places that do not deserve to be graded 4A only hurt the credit of the grading system and harm the interests of those scenic spots that truly deserve the honor. There should be regular checks and those that fail to meet the criteria should be removed from the list.
Second, improve the grading system by clearly distinguishing scenic spots from ordinary tourism zones and grading each of them properly, so that each zone gets its deserved grading.