Scenic spot around telescope to open to tourists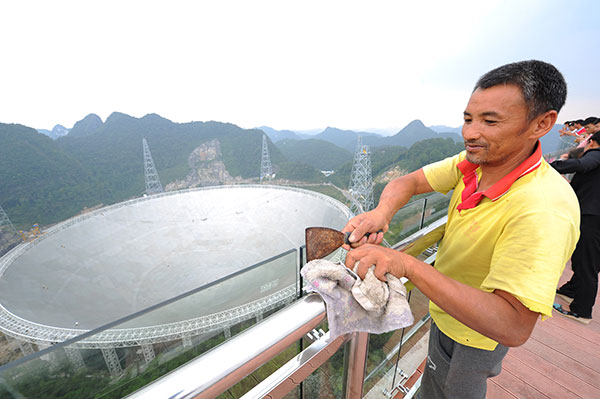 A worker cleans the guardrail of a sightseeing platform near the world's largest single-aperture telescope in Pingtang county, Guizhou province, in September.[Zhao Hui/For China Daily]
The scenic spot in which the world's largest radio telescope is located will be opened to tourists for free, authorities have announced, with the telescope expected to start a test run in the second half of this year.
Authorities in Pingtang county, Guizhou province, said in a statement that the scenic spot where the telescope is located will limit the number of tourists to 2,000 per day to avoid causing disturbances to the functioning of the telescope.
Construction of the Five-hundred-meter Aperture Spherical radio Telescope, or FAST, was completed in September. The single-aperture telescope, which has a diameter of 500 meters and is the size of 30 soccer fields, sits in a bowl-shaped valley between hills.
Although entrance to the scenic spot will be free, local authorities announced a fee of 50 yuan ($7.2) for shuttle bus tickets between the entrance and the telescope, and a fee of 50 yuan for a tour of an astrology museum nearby.
The Pingtang development and reform bureau said in the statement on Jan 20 that the price of tickets was decided after a hearing on the issue.
Wei Farong, director of the county government's news office, said that construction of the FAST has made the county a new favorite among tourists.
"We will try to make the scenic area around the telescope a new landmark for the county," Wei said.
He added that the authority will improve infrastructure around the scenic area to prepare for a likely increase in the number of tourists.
The FAST is the world's largest single-aperture telescope, overtaking the Arecibo Observatory in the United States territory of Puerto Rico, which is 305 meters in diameter, Xinhua News Agency reported.
Construction of the nearly 1.2 billion yuan FAST project started in 2011, 17 years after it was proposed by Chinese astronomers.
The FAST will search for gravitational waves, detect radio emissions from stars and galaxies, and listen for signs of intelligent extraterrestrial life, according to scientists.
Liao Fei, head of the Guizhou Provincial Science and Technology Department, said in an interview earlier this month that the telescope is expected to start a test run in the second half of this year, adding that it could take two years before the telescope completes its test run.
Local authorities have pinned high hopes on the potential impact of the FAST project on local tourism.
They hosted a hiking competition in February to invite tourists to experience the unique landscape and sceneries near the telescope.
Visitors to the scenic spot are required to deposit all digital devices, including cellphones and digital cameras, in lockers before going into the signal-free zone, as the radio telescope tolerates zero disturbance from cellular services.